Corvo island, Azores. A charming, honest, and a unique community in Europe. This place may be small in size, but it has a huge heart. Let me help you plan such a special trip there!
Corvo is the smallest island in Azores and for the sake of managing expectations, I'll start by saying something rather unusual. Even tough Caldeirão is an incredibly beautiful place, don't expect a long list of sights or attractions like in Pico, São Miguel, or Flores.
Which raises the question: with 8 other larger islands in Azores, with so many more things to see and do, why would one go to tiny Corvo?
Well, everyone will have their own reasons of course, but for me traveling it's not all about ticking off a list of sights.
And, my friends, going to Corvo is an experience. A temporary-yet-very-real experience of isolation and remoteness. You'll know it from the moment you step your feet on the island.
The island is serene, charismatic, and peculiar. Silence is king there, and you'll find the vibe, the lifestyle, and especially the people who live here very special. The fact locals don't even lock their doors is just a hint.
Corvo island, Azores – Travel Guide

Corvo Island
With a mere 17km2, Corvo island (literally, the Crow island) is the tiniest and northernmost island in the Azores. Together with Flores, it forms the Western Group of the archipelago.
The population of Corvo is roughly 430 people and they all live in Vila do Corvo, the only settlement in the whole island.
With a history of battling pirates, corsairs, and recurrent rough Atlantic storms, local corvinos are known for their history of resilience and courage. Only in 1963 (!) the island received electricity and I remember being a teenager and seeing on the news the installation of their first ATM machine.
These days, Corvo is a UNESCO Biosphere Reserve and a bucket list destination for birdwatchers or for anyone seeking the experience of visiting a serene remote community of islanders.
When isolation is an asset
Perhaps my biggest lesson from Corvo is how humbled I was to realize how they managed to build such a strong community, against all odds. They've really turned the isolation into an asset, instead of a drawback. Everyone helps everyone, something that ironically, the rest of the world struggles so much to do.
I had so many questions going into Corvo and left with many more, to be honest.
Our tour guide, Fernando, as my interrogation "victim". After taking us for a tour of the island, he grabbed a drink with us and explained his routines, his life story, his ways of doing things, and much more.
His answer when I asked if he had ever thought of leaving Corvo stuck with me: "Not in a million years! Here in Corvo, I'm a big man. Anywhere else, I'd be small and insignificant."
Here in Corvo, I'm a big man. Anywhere else, I'd be small and insignificant.
How to get to Corvo island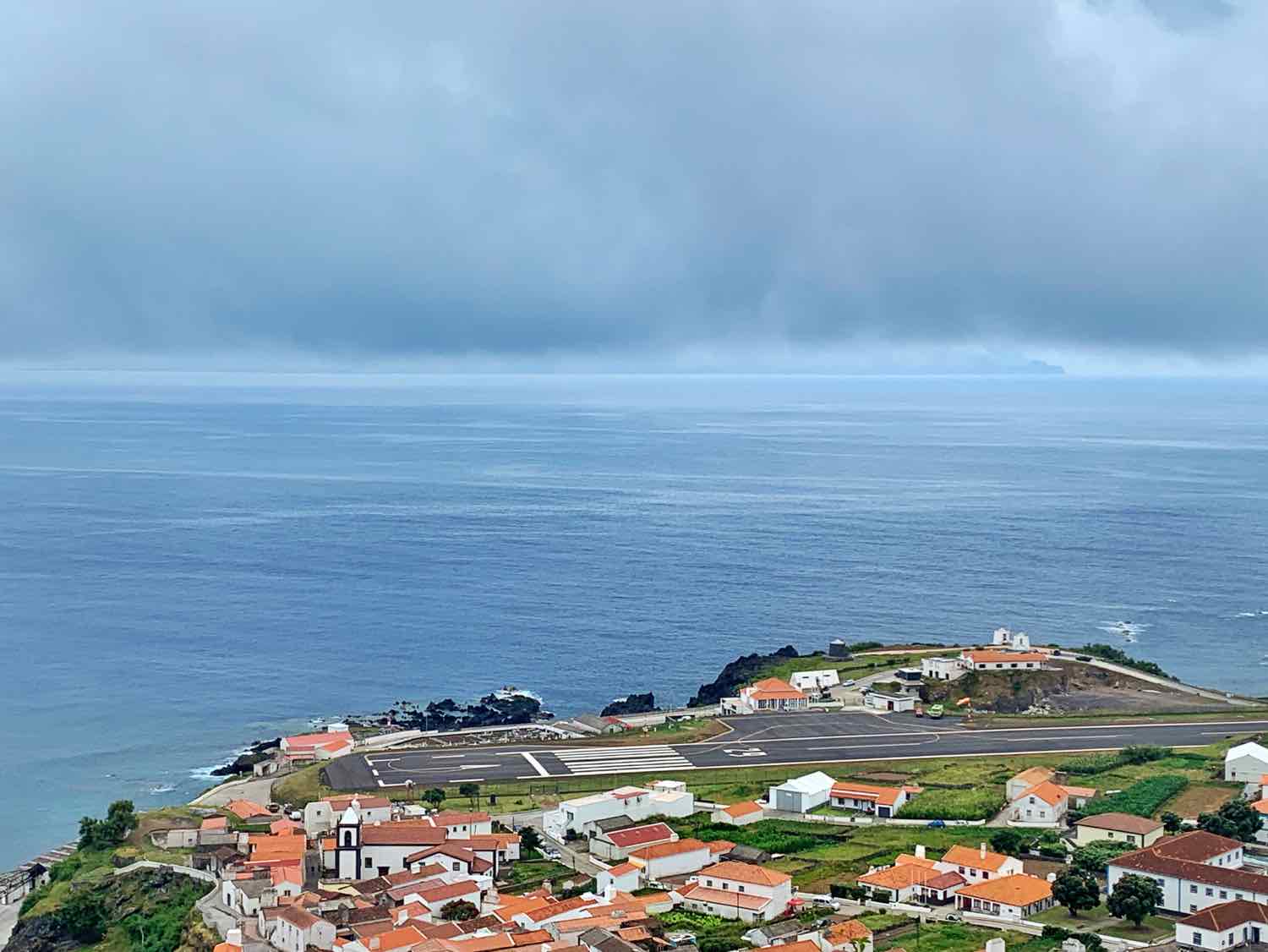 Most people will arrive to Corvo on a day trip from Flores.
Atlântico Line has a regular ferry (Ariel), but booking a private boat tour that includes seeing caves, waterfalls, and dolphins on the way is definitely better value if you ask me.
ℹ Corvo day trip from Flores
I booked my boat tour with Extremocidente . Call the boat driver Carlos Mendes one or two days in advance to reserve a spot.
The journey to Corvo takes about 1h20 as he'll also navigate the northern coast of Flores around caves, islets, and waterfalls. You can also coordinate with him hiking tours to Caldeirão (with a group), although I'd recommend to do it separately once you get to the island.
The alternative to getting to Corvo is by plane – a pricier but quicker option. The 800-meter runway of the airport sees small planes from Flores and Faial landing.
Getting around Corvo
There's no way you'll getting lost, but please note that once you get to Corvo, there are no buses or taxis. Just a few small vans who take visitors all the way up to Caldeirão and back. This is during summertime; if it's wintertime or you don't see any tours, simply ask a local. They'll find a way, even if it means taking you on their private cars.
If you don't mind the hike, you can also walk (or hitchhike).
What to see and do in Corvo
Caldeirão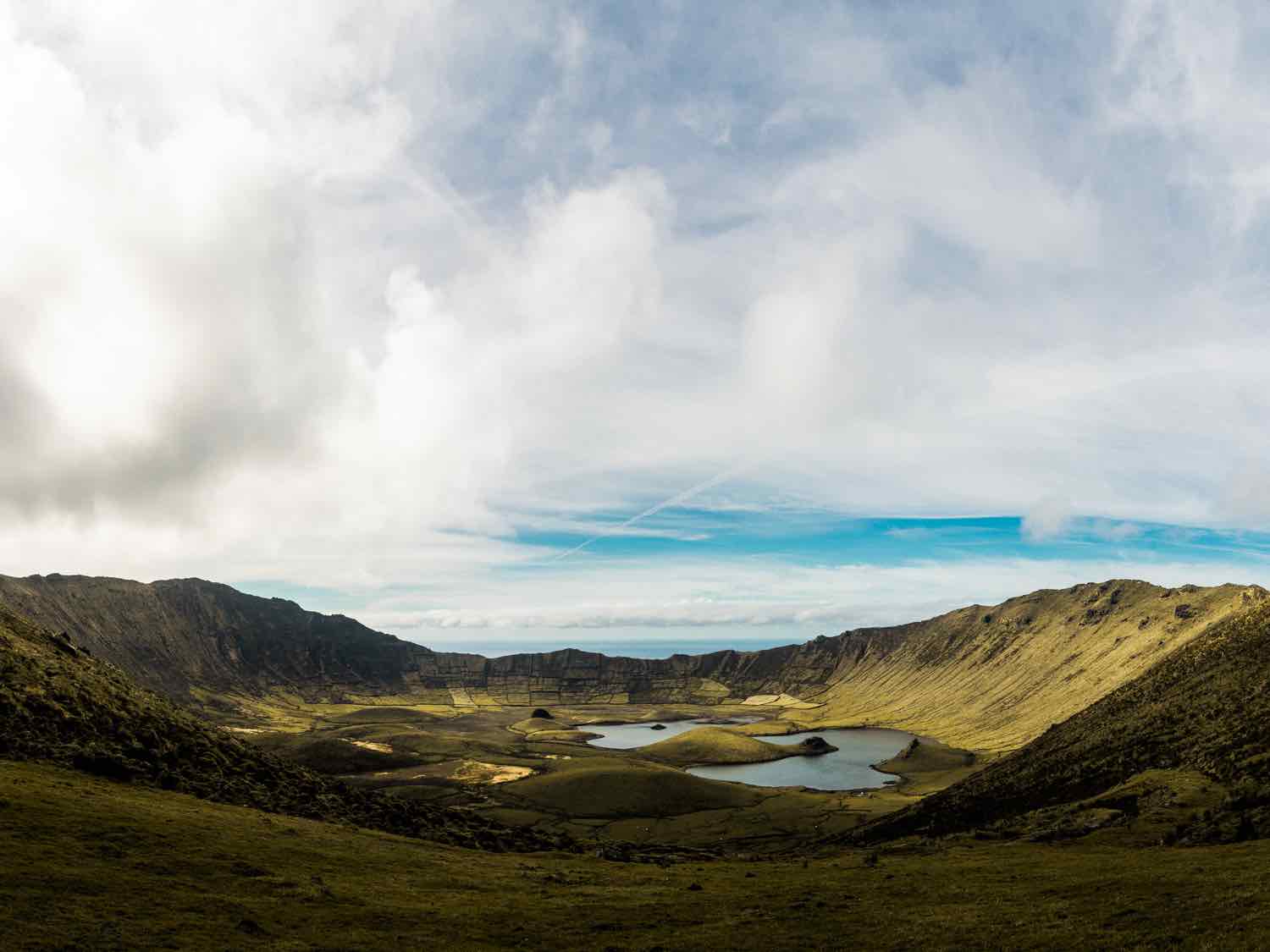 The 3.5km-width extinct volcano crater of Caldeirão is by far the most impressive landscape of Corvo. According to locals, the volcanic cones, bogs, and the lakes depict the nine islands of the Azores, although I'd add you need some imagination to get there.
The western, eastern and northern slopes of the crater are particularly beautiful as they drop abruptly towards the magnificent lake in the center.
You can either stay by the viewpoints up there or do the hike around the crater, which I highly recommend. You'll feel small and insignificant, with silence only interrupted by birds and cows.
Vila do Corvo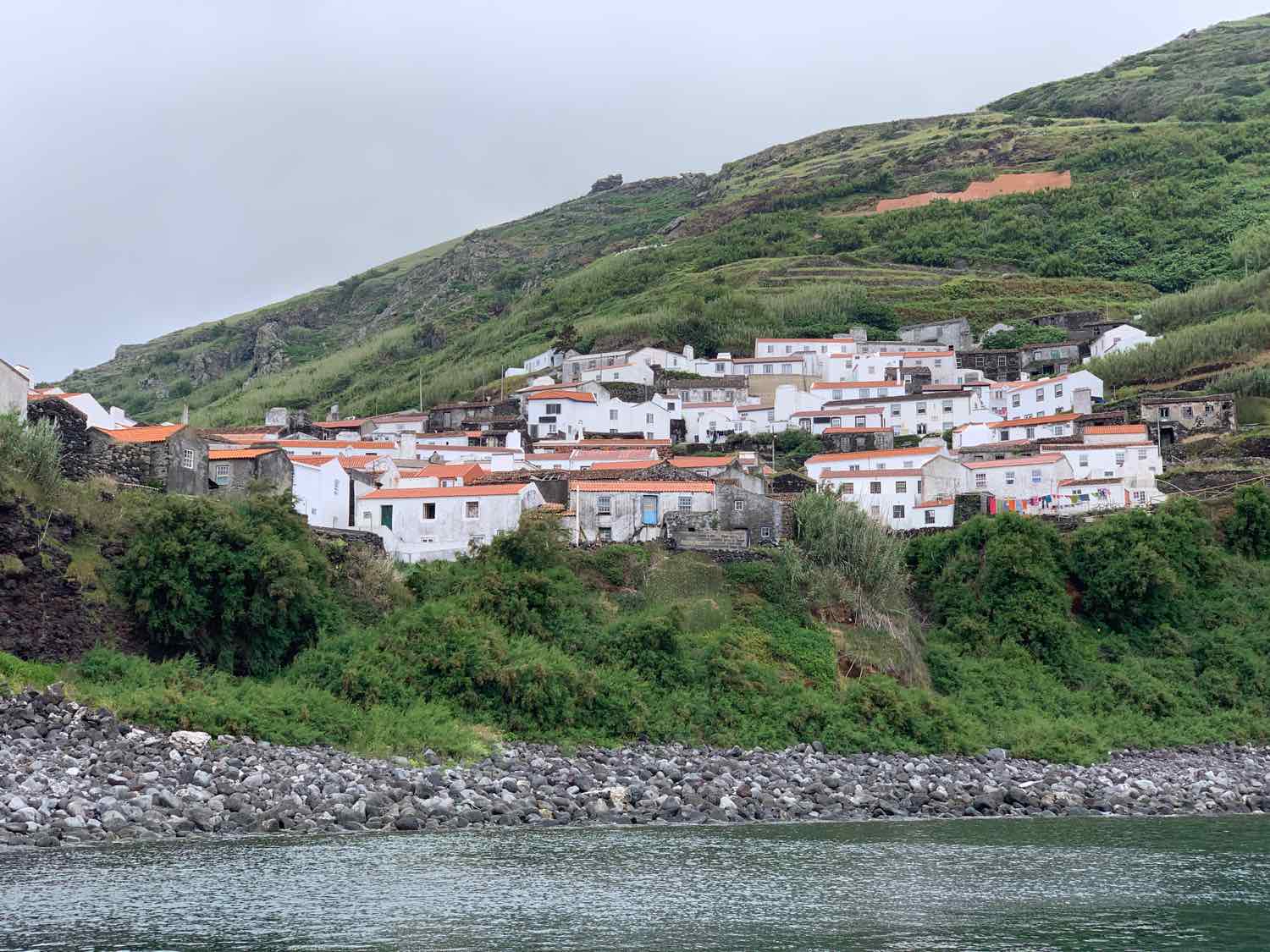 Vila do Corvo is located in a fajã and is the only village on the island.
This quaint tiny settlement is a mini-maze of narrow cobblestone streets called canadas. Following traditionally Azorean style, the houses feature black lava stone facades mixed with white walls. Pay attention to the wooden locks on the doors of the houses, one of the remaining traditions of the island, or drop by Artesanato do Corvo (Corvo's handicraft shop), the local artisans.
If you happen to come around Espírito Santo (Holy Spirit) festivities, don't be surprised to be invited to attend local parties and even to eat at someone's home.
The largest festival of the year happens on the 15th August, in honor of Our Lady of Miracles (the patron Saint of Corvo).
Birdwatching
More than 400 species of birds can be spotted in Azores, and Corvo itself has become a sort of a birdwatching mecca. Despite the unpredictable weather, hundreds of these passionate birdwatchers invade the island, looking to spot both resident and migrating bird species.
It's in October that the higher number of species overlap here, a popular stop for both Western Palearctic and America vagrants species.
I'm not an expert in birds, so you can read more about the species spotted here. All I know is that the demand is so high that people have to stay in local's homes. Fernando himself was to accommodate 16 people (!) at his house!
Hiking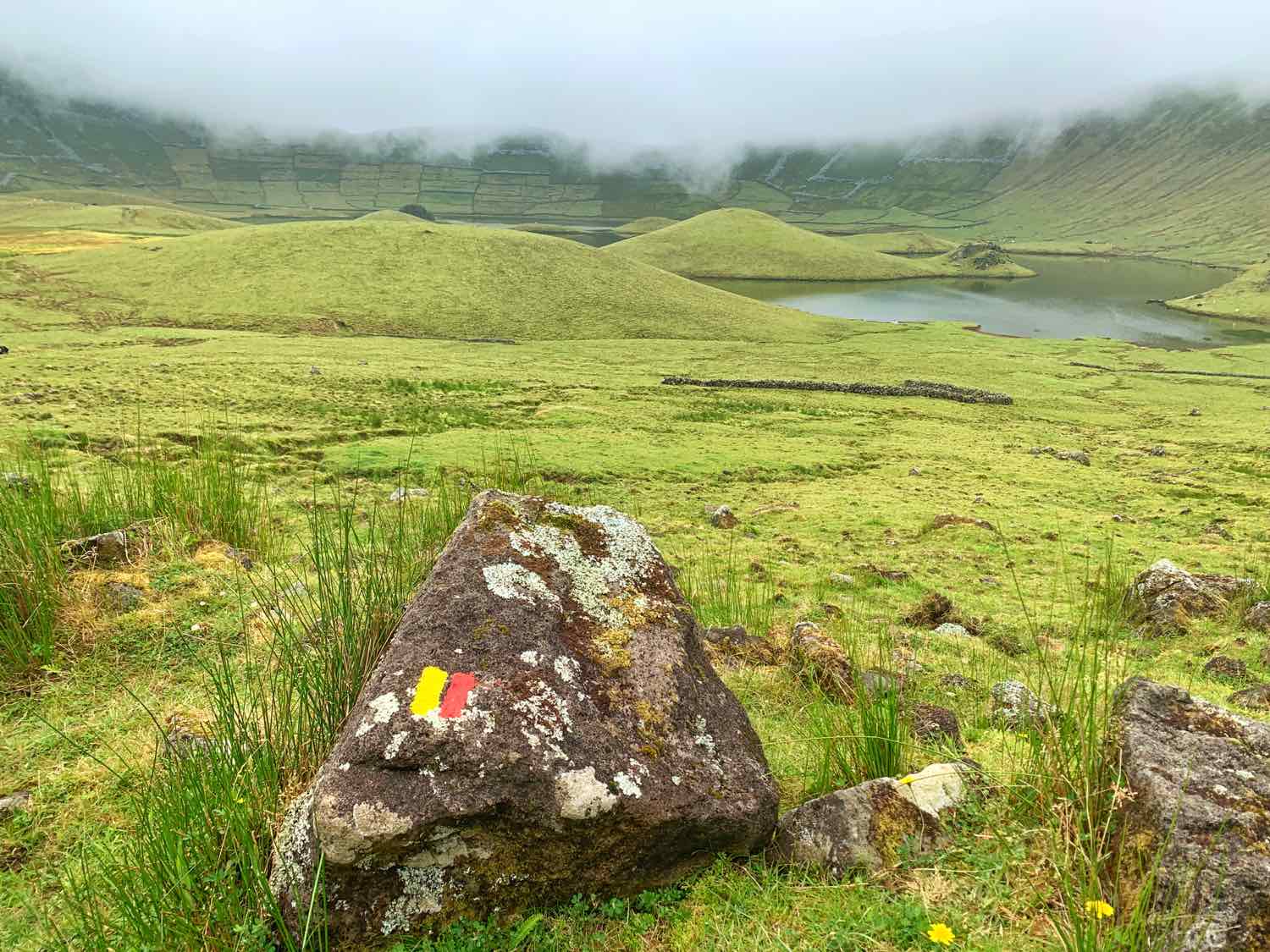 The Azores are a paradise for hikers and Corvo is no exception. There are only two official trails in the island though.
The circular 2h30 PRC2COR trail goes all around the crater at Caldeirão and allows to take in the views from all possible angles. We started doing it, but halfway there, heavy fog and rain didn't let us proceed. The weather can completely change in just 10-15 minutes up there. A bummer, although the eerie clouds just added to the charisma of the place.
The other one is the 3-hour PR1COR, connecting Caldeirão to another important geosite: Cara do Índio. Great view over Flores island on clear days. The trail ends at Praia da Areia (literally Sand Beach, who knew?) which is very appropriate for relaxing.
Mingle with the locals!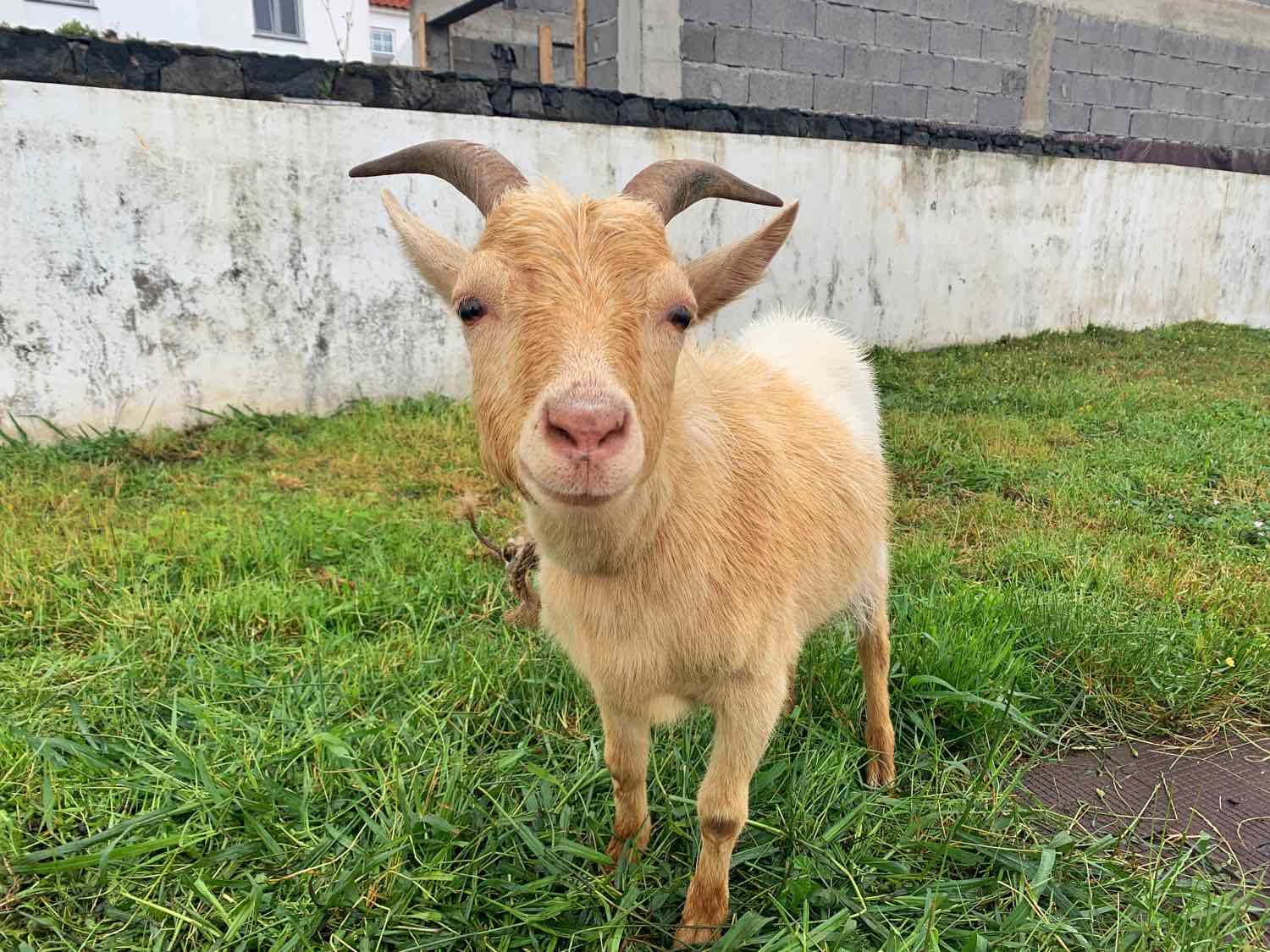 Perhaps the most rewarding and enlightening thing to do in Corvo: talk to locals. I mean, we're talking about few hundred people that live in a remote "rock" in the middle of the North Atlantic Ocean. It's a once-in-a-lifetime opportunity to understand how they see the world and learn how such an incredible community lives in the 21st century.
Locals are generally super friendly and see every visitor as a chance to break their monotony. So feel free to drop by the local bar or square with a curious mind. They'll find a way to communicate, even if you're not exactly fluent in Portuguese.
Looking back, I learned quite a lot in just a few hours. And not only about Corvo itself, if you dig deep enough, you'll start to question some things in your life and put others into perspective. Oh, the beauty of traveling.
Accommodation in Corvo
If you want to take the remote islander experience to a whole new level, consider staying for a night or two. Apart from the mind reset, I imagine you'd be friends with a third of the island population by the time you leave.
Even though many houses rent out private rooms for visitors, there are just a few official accommodation places on Corvo.
Food in Corvo
Never writing a food section about a place was so easy. There's only one restaurant in the island: Caldeirão. They have a 10-euro lunch buffet with traditional Portuguese food and serve dinners too.
I had a delicious bacalhau com natas, but grilled seafood and meat-based dishes (pork and beef) are common too. Cows in Corvo have all the time and space in the world to hang out on the pastures next to Caldeirão. Even though corvinos may not be familiar with the concept, all food on the island is organic and locally sourced.
You can also hang out at Irmãos Metralhas and BBC, the local snack bars.
Other useful resources to plan your trip to Corvo
Have you been to Corvo island? Is it on your Azores plans?
Let me know in the comments!