A trip to Hamburg, in the north of Germany, gave me the chance to experience the authentic Christmas market traditions for the first time. This is my first-timer guide to Hamburg Christmas markets, with all you need to know about this glowy and colorful tradition!
Why the Hamburg Christmas Markets
While some cities have a lacklustre Christmas decorations going on (cof cof Barcelona) adding to the miserable feeling of winter, others really come alive during this time of the year.
In recent years, Christmas markets in Germany have boomed in popularity. Nowadays, it has become a tourist attraction per se and people now travel from all around the world to experience them. While Germans have took this tradition abroad, nothing compares to the real thing!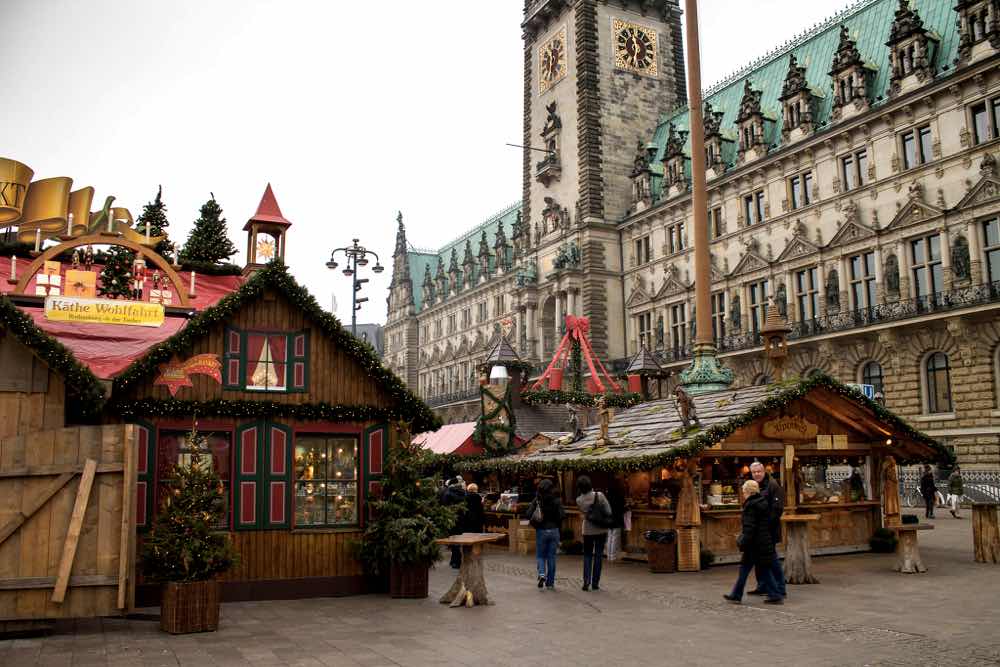 As the largest city in the north, Hamburg wraps itself in beautiful bright lights with properly decorated wooden stalls scattered all around the city. Christmas markets in Hamburg usually open during the third of forth week of November and run until Christmas day or even New Year's Eve.
Like the city itself, markets in Hamburg are very easy to walk around and to delight yourself with the christmas spirit. For someone like me who had never been before, Hamburg's markets were the perfect introduction!
Main Christmas Markets in Hamburg
Weihnachtsmarkt
Located right in front on the Rathaus (city hall), this is the most visible Christmas Market in Hamburg and one of the most popular in the whole Germany. The large illuminated tree marks the spot where almost three million people have fun every year.
The stunning City Hall as a backdrop gives it a special glow and stalls are arranged in special alleys, according to the products they're selling. You can find craftsmen in one street (Handwerksgasse), sweets, crepes and candies in another (Naschgasse) and there is also a special alley for children (Spielzeuggasse).
Ah and Santa Claus, mounted on his sleigh, literally flies over the market every day at 4pm, 6pm and 8pm. This is the market not to be missed!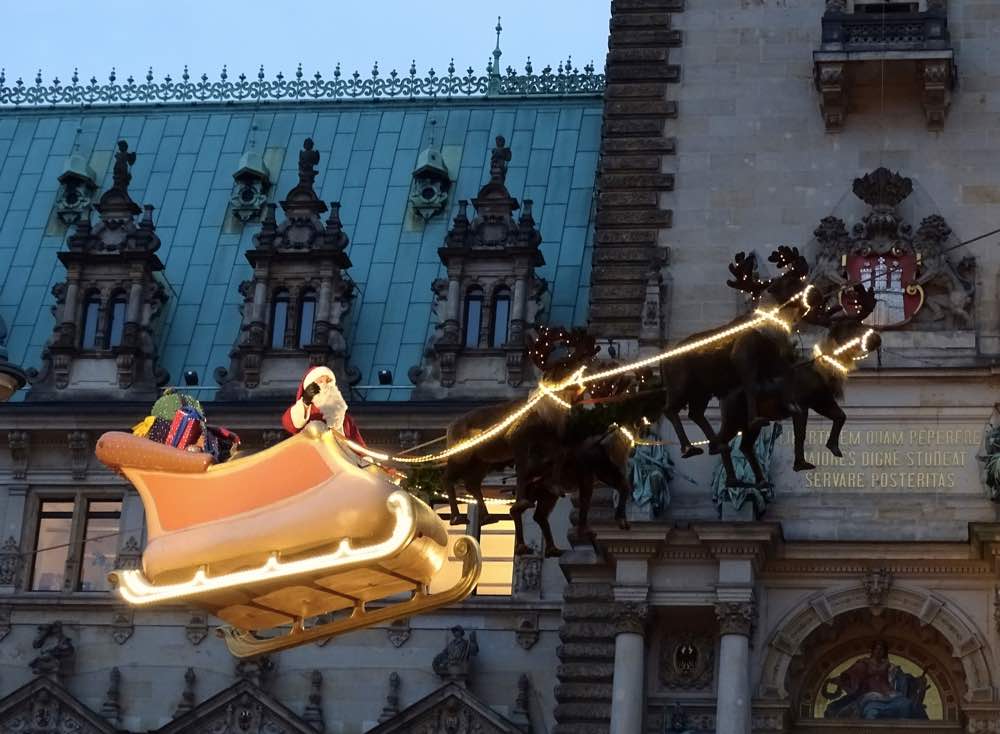 Weihnachtsmarkt Christmas Market information
Location: In front of the Hamburg Rathaus
Times: Sunday-Thursday : 11.00-21.00
Friday-Saturday : 11.00-22.00
More info on the Weihnachtsmarkt website here.
Weisser Zauber
The Weisser Zauber Christmas Market is located right on the promenade running along the Alster Lake, the enclosed artificial lake in the city.
What I enjoyed the most about this market were the views to the lake. The setting is beautiful and the christmas tree in the middle of the water created even more beautiful reflections.
While the traditional food and drinks are available, this market seems to be specialized in crafts. Nutcrackers and other christmassy arts are the strong point here. So if you're looking for gorgeous gifts in a beautiful atmosphere, this is definitely the place to be.
Beware as the most open-air market of them all, it can get freezing cold!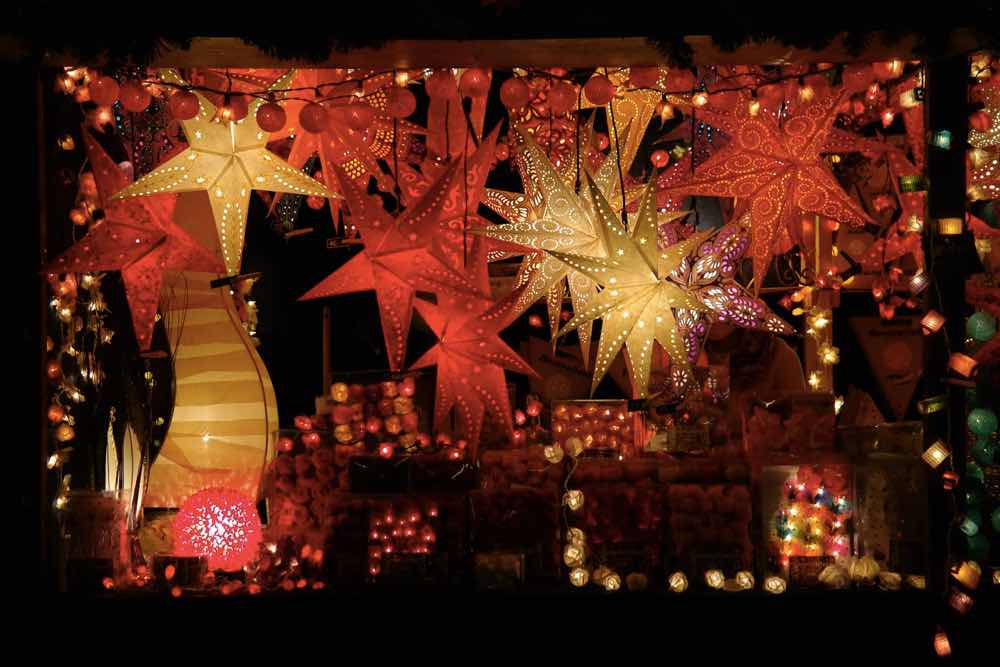 Weisser Zauber Christmas Market information
Location: Jungfernsteig
Times: 11.00-21.00
Winterwald
The concept of this market is to mimic a winter forest in the city centre. Located right in the heart of the shopping streets of Hamburg, Winterwald definitely creates a pleasant disruption with the surroundings.
This market was probably my favorite. Not too busy nor too big, the wooden stalls and tall pine trees around created a very laid-back and cosy feeling to it. The food and drink available were spot on. Plus, this was where I first spotted one of the most delicious treat I've tasted in the city: a salmon sandwich, cooked in firewood. Yum!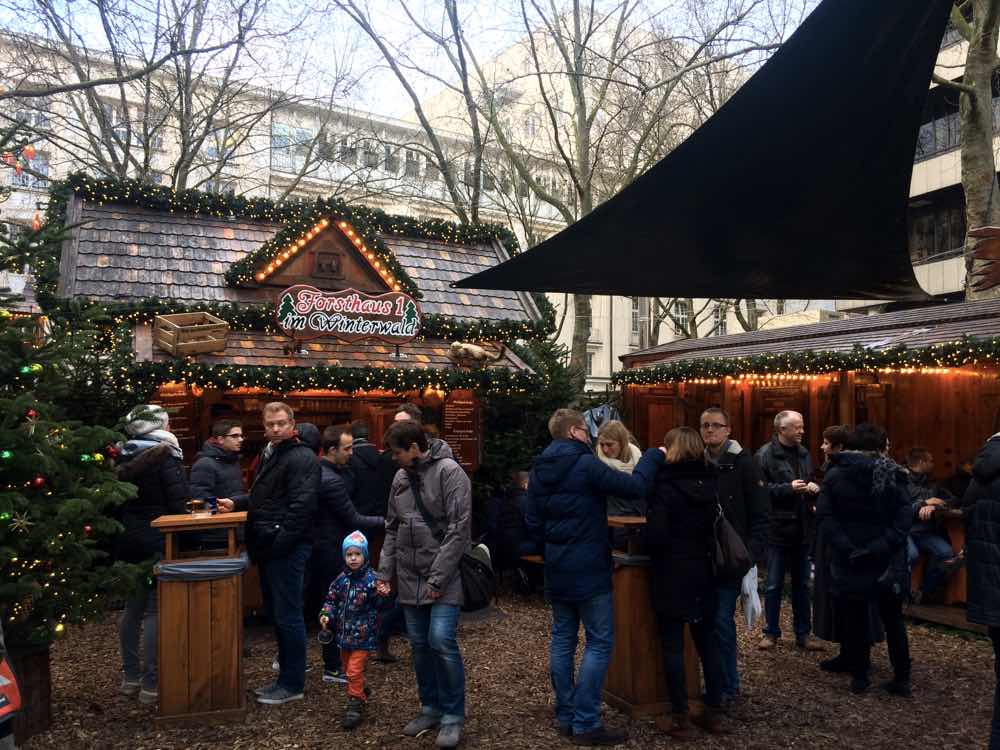 Winterwald Christmas Market information
Location: Gerhart-Hauptmann-Platz, near Mönckebergstraße, the main commercial street
Times: 11.00-21.00
Santa Pauli
To put it mildly, this market is a change from the traditional.
The Santa Pauli market in Spielbudenplatz – close to the red light district in the city – offers a first-in-the-world concept of an erotic Christmas market. Expect vibrators, kinky underwear and porn movie karaoke (!). An enclosed tent houses Santa strip-tease shows (male and female) which happen every hour.
Despite the 18+ year-old theme exuding an different Christmas spirit, the market is not dirty or explicit. It didn't feel like that at all. Pine trees border the public square and soft wood chippings on the floor create a pleasant and aromatic surface to walk on.
I think this market is GREAT fun and brings a bit of spiciness to your Christmas. The live music makes it a great start of the night before heading to the clubs near Reeperbahn.
Check out this trailer for the Santa Pauli Christmas market in 2014:
Santa Pauli Christmas Market information
Location: Spielbudenplatz, along the Reeperbahn street
Times: Monday – Wednesday : 16.00-23.00
Thursday : 16.00-24.00
Friday & Saturday : 13.00-01.00
Sunday : 13.00-23.00
Secure your bed in Hamburg today:
What to eat and drink in Hamburg Christmas Markets
Glühwein
German mulled wine or Glühwein, which literally means "glow wine", is the most popular drink at Christmas markets throughout Germany and Austria. It's a traditional warm beverage consisting of red wine heated and combined with different spices, citrus fruits and sugar.
While it might come across as too sweet for many, there is no better drink to warm up your body and soul in a cold winter night. Each market usually have special decorated cups for the wine for which you pay which means you could collect glühwein mugs.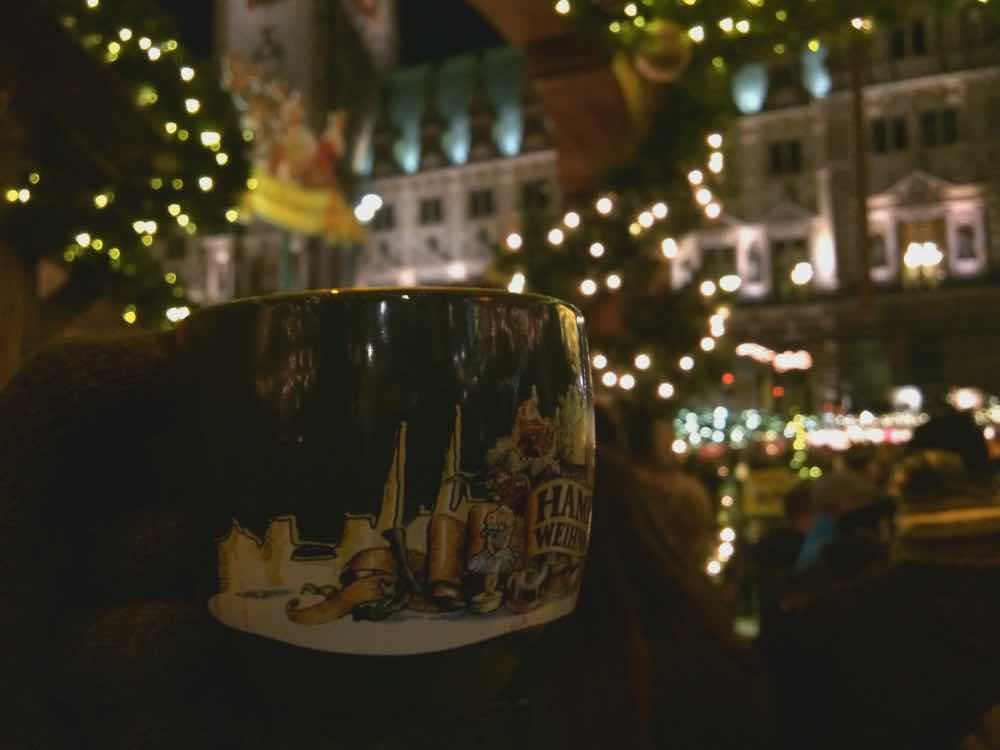 For those who are not so keen on alcohol, it is common to see hot fruit punches and non-alcoholic herbal teas also being offered.
Tip: Each market has special decorated wine cups. You pay a deposit and get it back when you return them or just keep the cup as a souvenir.
Bratwurst
A German Christmas market without sausages would be like Santa Claus without a beard.
The good news is that with so many carnies and merchants from the whole Germany applying to sell their products in the christmas markets, you can be assured you're eating the top quality wursts.
Of course you're not likely to be feeling particularly good about yourself afterwards. But hey, it's one of those indulgent things associated with Christmas you can't leave Germany without trying. Note they can be served in the form of the legendary currywurst – sliced brätwurst swimming in curry and ketchup sauce.
Plus, I always find it hilarious how they serve them in these tiny pieces of bread: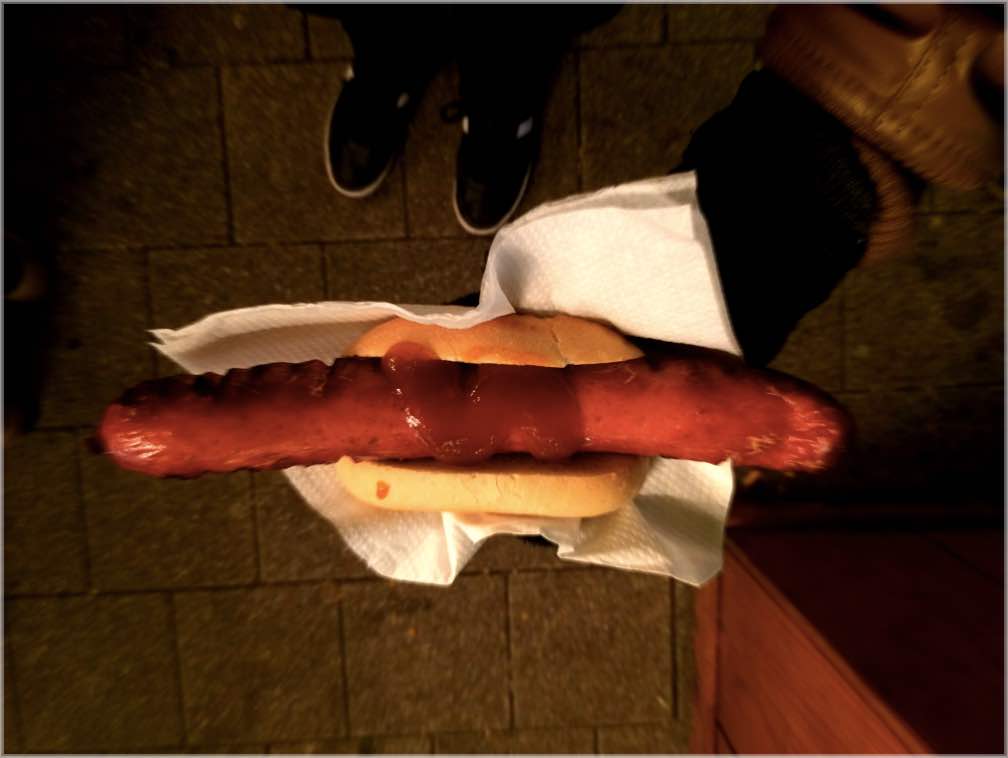 Tip: Look for the giant circular grill suspended by chains over hot charcoal. German sausages cooked here are the juiciest and intense-flavored I've ever tasted.
Salmon
I don't care if it is traditionally German or not. Anything coming out of this will taste great.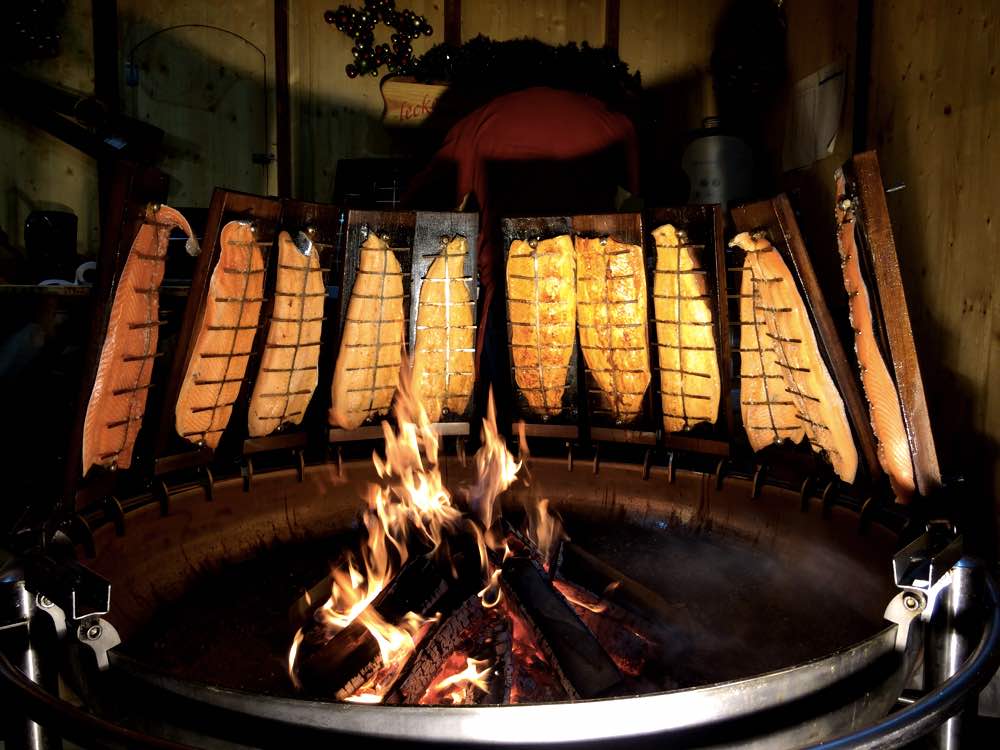 Crepes
Crepes (pannfkuchen) know this hardly counts as a traditional german treat, but I haven't personally seen such a delicious variety of toppings like in Hamburg. Snickers, Nutella, eggnog and my favorite Kinder chocolate are all available for your delight.
Aha, now I see where my abdominal fat came from!
Lebkuchen-plätzchen
Perhaps the most Christmassy of all German sweets are the plätzchen cookies. Shaped and decorated with a festive theme, the most popular are the lebkuchen, the traditional gingerbreads coated in chocolate and shaped in all kinds of shapes from Christmas trees to little Santas.
These can be seen everywhere around the city and make not only a delicious snack but also a nice gift to decorate someone's house!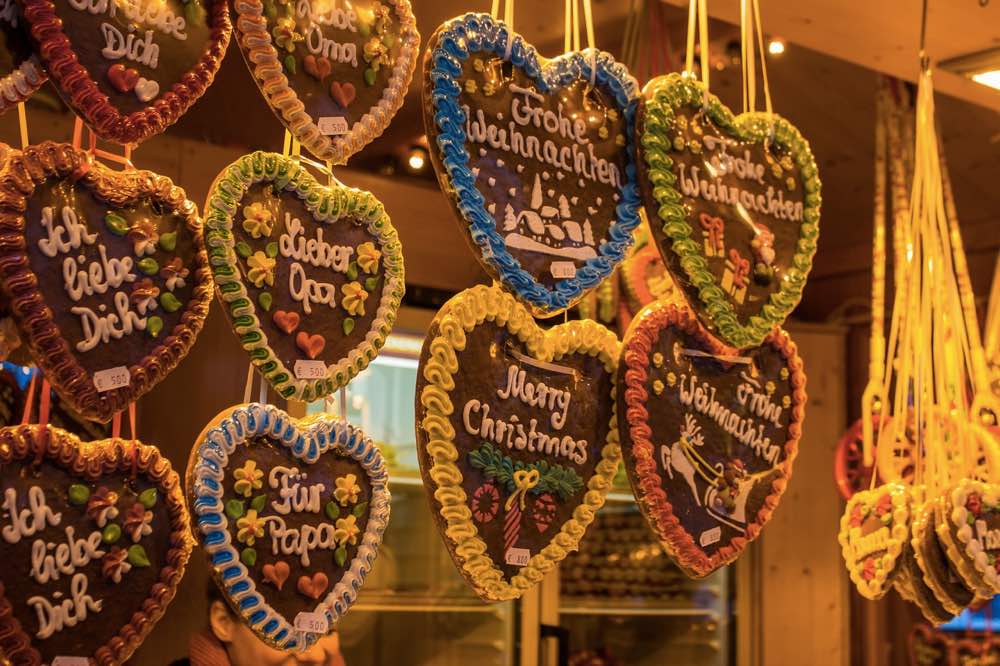 Schmalzküchen
This is one of the most popular sweets and man, they smell really well. Schmalzküchen are small doughnuts made with a lemon and vanilla-favored yeast dough that is then fried into little golden cubes or balls.
Vendors then sprinkle a bit of (a LOT) confectioners' sugar over the hot pastries. They're typical from Northern Germany. If you've ever tried churros in Spain they will taste about the same, they just come in a different format.
Other things to eat and drink
I've noticed they had a kind of bread with cheese on top and a mix of cabbage and sausage which smelled really intense. Not very appealing to me, but these were absolutely everywhere. Have no idea of their name though. If you do, please care to comment below!
And sweets. Lots of sweets. This included fruit coated in chocolate, roasted almonds and nuts.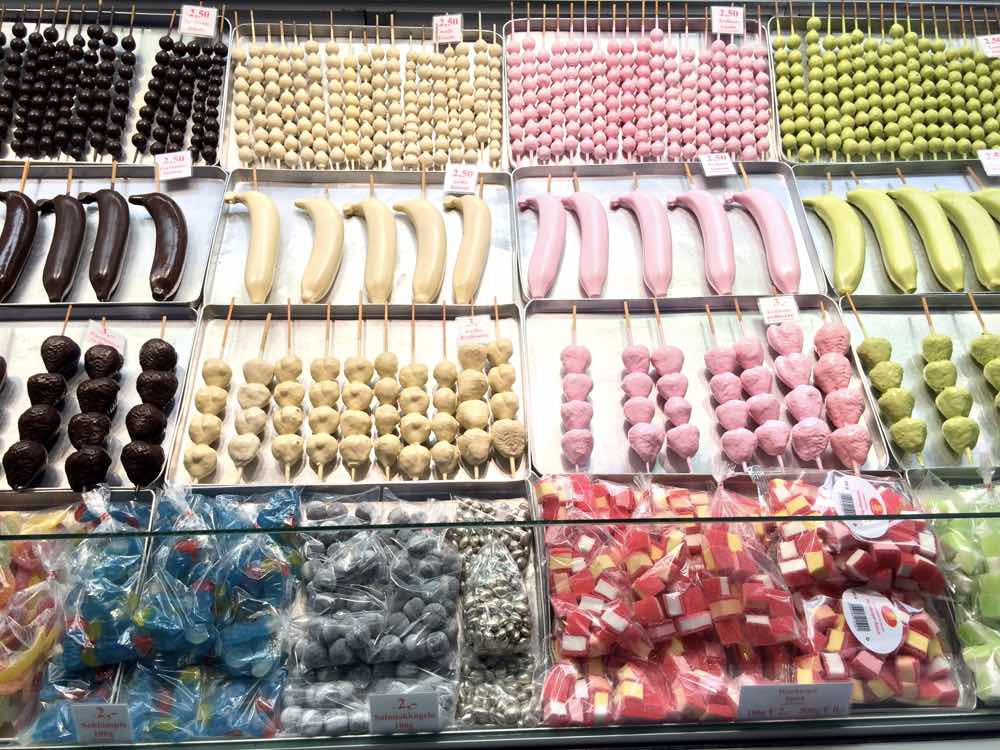 What about to drink? Oh well. You're in Germany, so you can't go wrong with beer. There are many variations of the mulled wine, usually made from berries. Or you can just go for a kakao or heiße schokolade, hot chocolate which can be ordered with marshmallows.
Finally, Jägermeister and Kümmerling are herbal liqueur bitters that make an excellent digestif. Prost!
German Christmas Markets Price List
Apart from crafts – which seemed to me a bit expensive – food and drinks are surprisingly cheap in the markets in Hamburg:
Glühwein: 3-4 EUR + 2-3 EUR cup deposit (refundable)
Schmalzküchen: 2-3 EUR
Bratwurst: 3-4 EUR
Crepes: 2-4 EUR
Lebkuchen-plätzchen: 7-10 EUR
Review of Hamburg during Christmas
Overall, I feel I did a pretty good choice for my first Christmas markets' experience. During this time of the year, it's very difficult to get around without tripping over a Christmas market in Hamburg.
Other events this time of the year like the Hamburger Dom fair adds a bit of excitement and helps cheer up even more the city (the ride on the rotor still makes me dizzy!).
The markets are VERY well organized – the German way – and display an impressive variety of quality food & drink, wooden gifts and other intricate crafts. They surely take the doom out of winter with all lighten up, my only regret now is to had overlooked this tradition for all this time!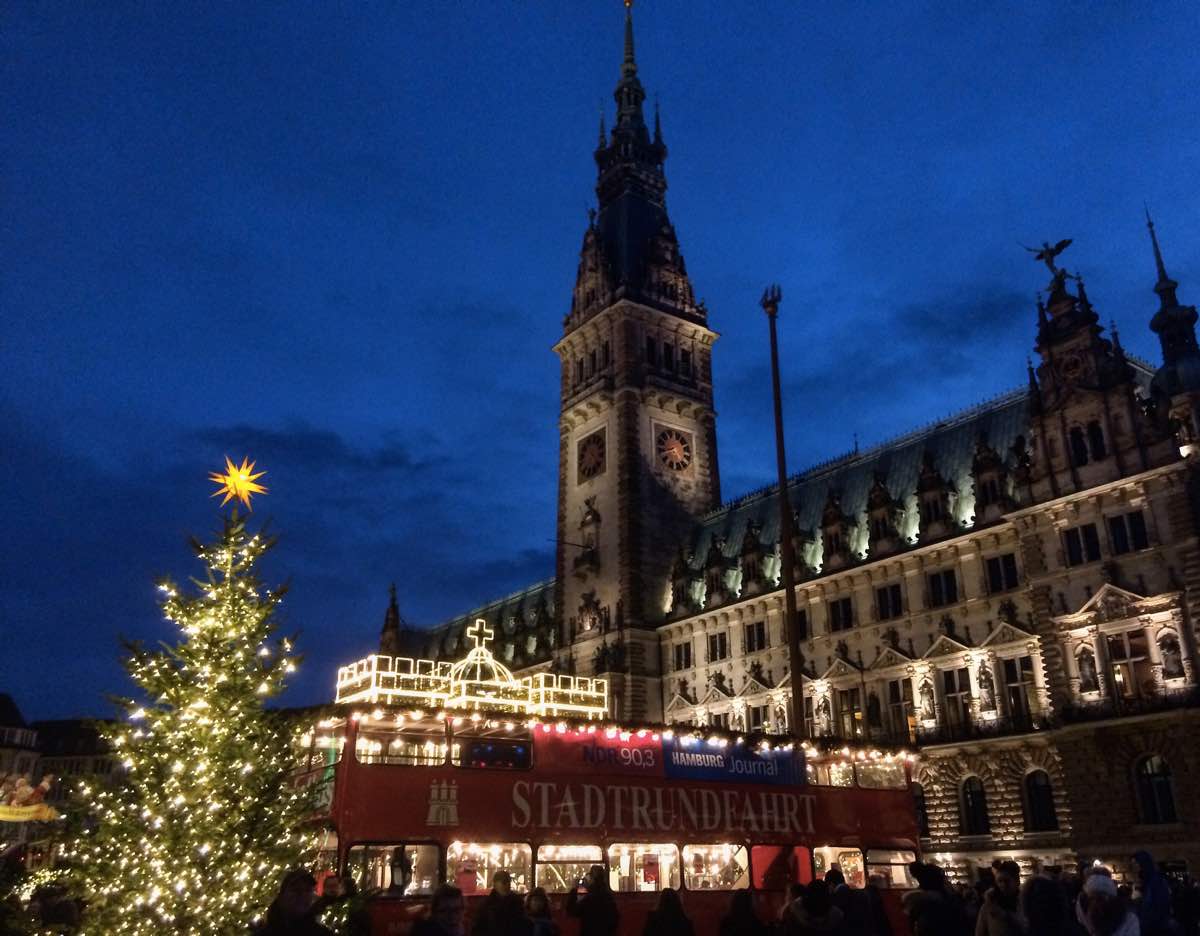 The steam from the hot chocolate and mulled wine rising up from the cups, the smell of indistinct cinnamon scent in the air and the Christmas lights reflected in the Elbre river and in the Alster lake are nothing but warming memories now.
Christmas is the most special time of the year and Hamburg does a great job in making it even more special. See you next year Germany and Frohe Weinachten (Merry Christmas)!
Secure your bed in Hamburg today:
Have you been in Hamburg Christmas markets? Where was your last Christmas market experience?