This is an insider guide for anyone seeking to explore Flores island, in Azores. I compiled tips for the main sights, food, and logistics on this piece of paradise in the middle of the Atlantic.
Did you know Europe begins (or ends, depends on the point of view!) with a majestic island garden?
Explore Flores, one of the most beautiful islands in the Azores, with its lakes, sea cliffs, laurissilva forests, viewpoints, natural swimming pools, fajãs, and waterfalls.
Despite its tiny size, there's a lot of things to see and do here, this article will help you plan your trip to this remote paradise.
Insider guide to Flores, Azores

The essential of Flores Island, Azores
Flores is one of the remotest islands of the remote archipelago of Azores. Together with Corvo, it forms the western group of the Azores islands and is the westernmost point in Europe. Fun fact: it's actually part of the North American tectonic plate!
Around 4,000 people live in this remote piece of paradise, which has landscapes of extreme natural beauty.
A UNESCO Biosphere Reserve, the island is a haven for sustainable and eco-tourism and a stunning place for hiking, top-notch canyoning or just doing nothing and contemplate nature.
Language | Some locals speak English (especially the younger generations), but I suggest learning a few words of Portuguese.
Money | Euro. Note cash is still used in most places and ATMs are not common: you can find a few in Santa Cruz, one in Fajã Grande and another one in Ponta Delgada.
Weather | Flores has a humid subtropical climate, which means apart from consistent mild temperatures, anything can happen. The weather is ever-changing and you can have all four seasons on the same day. Winters can be rough in Flores.

⚠Keep Azores green and beautiful
The Azores have been consecutively named one of the top sustainable destinations worldwide. Don't spoil what has been unspoilt for centuries. 💚
When you're in the islands, please try to minimize your impact at all times. Be careful with any activities thay may cause visual, noise, and physical pollution. This includes avoiding playing loud music on phones and obviously taking ALL the trash with you until you find a bin, especially plastic!
🌤️ When is the best time to visit Flores?
The best time to visit Flores is definitely during summertime, between July and September. It's also when everyone will visit, but it will give you a higher chance of warm temperatures and sunnier days.
I'd avoid coming between November and February when heavy rains and strong gasps of wind hit the island quite often. Locals told me more than 50% of the flights get cancelled in winter months!
Important: in the Azores, the weather is up to the gods to decide. You may get lucky with a sunny warm day in February or a storm in August. Who knows, right?
📅 How many days to visit Flores?
If you are pressed for time and just want to tour the essential sights by car, you'll need one day and a half as a bare minimum to visit Flores.
However I recommend staying at least 4 full days to give you time to:
do some hiking
wait to see the lakes and waterfalls with decent weather
accommodate for any extreme weather conditions
go to Corvo island
relax!
Getting around Flores
Getting to Flores
The most convenient way to get to Flores is by plane. SATA has flights connecting the airport at Santa Cruz das Flores to Corvo, Terceira, Faial and São Miguel islands.
If you're traveling in summer, taking a ferry is another option to get to Flores. You can get to Lajes from Horta (Faial) using the yellow line of Atlântico Line.
Driving in Flores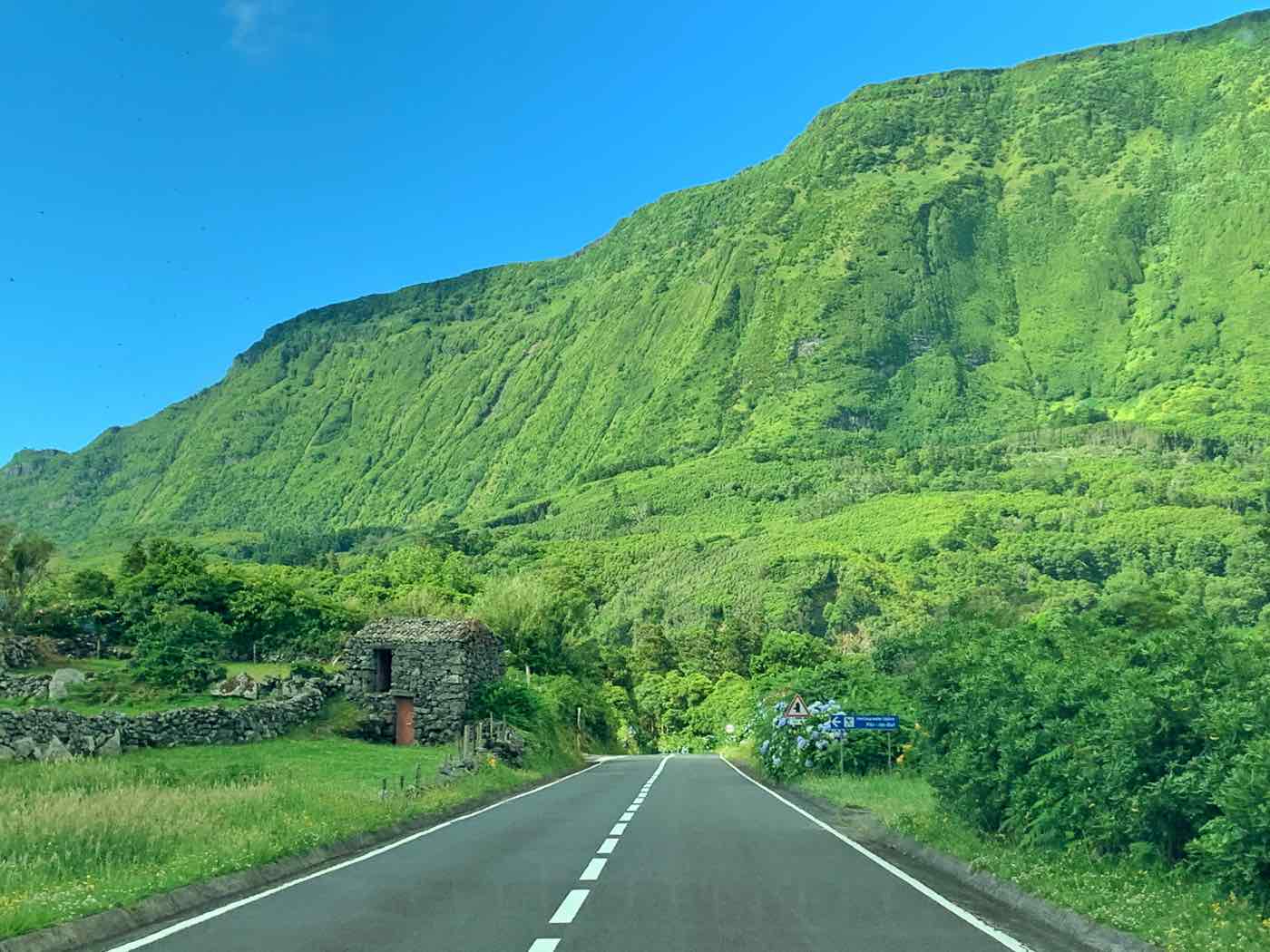 Like in all the remaining islands, I HIGHLY recommend renting a car to move around. It gives you freedom and independence to explore the island at your own pace. There are Autatlantis and Ilha Verde desks at the airport.
You might be wondering: Will I die if I drive in Flores?
No. Actually driving around is very straightforward. The roads are in good shape (albeit with many curves) and apart from the main road that goes around the island, there are only a few secondary ones. Watch out for the wild rabbits on the higher grounds 🐰.
Public transportation in Flores
If driving is not an option, you'll need some extra planning to book independent tours or get around using the UTC bus network that connects the major villages in Flores. EDIT: due to pandemic reasons, please check if this service is still available.
What to do in Flores
I've listed 10 of my favorite things to do in Flores or just continue down for an overview of what to expect in the island.
Waterfalls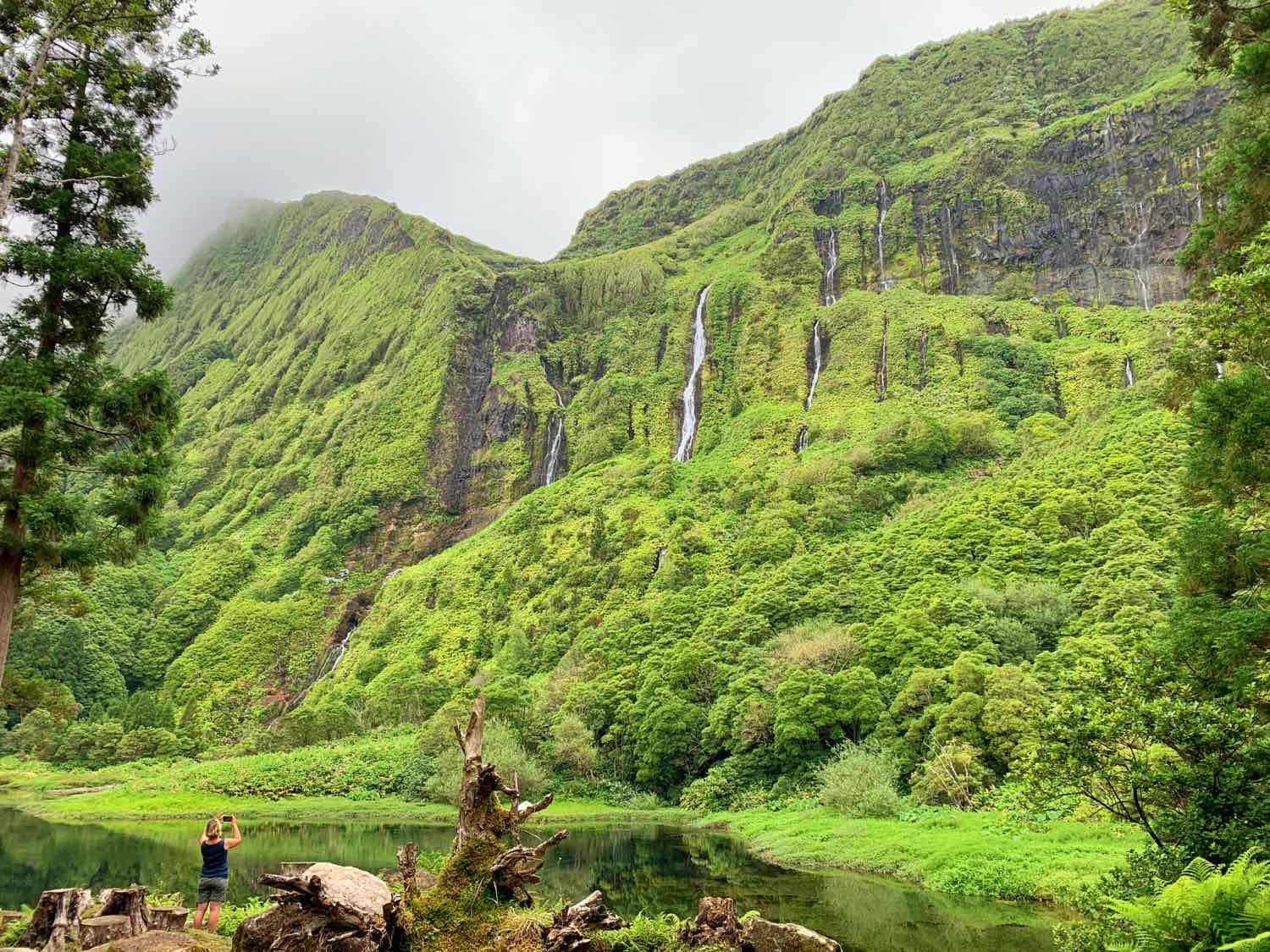 Even though its name literally translates as "flowers", for me Flores is the island of water. Gorgeous lakes, creeks snaking through the hills, and towering waterfalls cascading into lakes or plunging down into the Ocean – all of this give me Avatar vibes.
One of the best spots to see waterfalls is Poço da Ribeira do Ferreiro (also known as Poço da Alagoinha or Lagoa das Patas). Here, more than a dozen waterfalls stream down the vibrant green mountains and converge on the same lake.
Also look out for the nearby impressive Cascata da Ribeira Grande and for the 90-meter high Poço do Bacalhau, in Fajã Grande.
Fajã Grande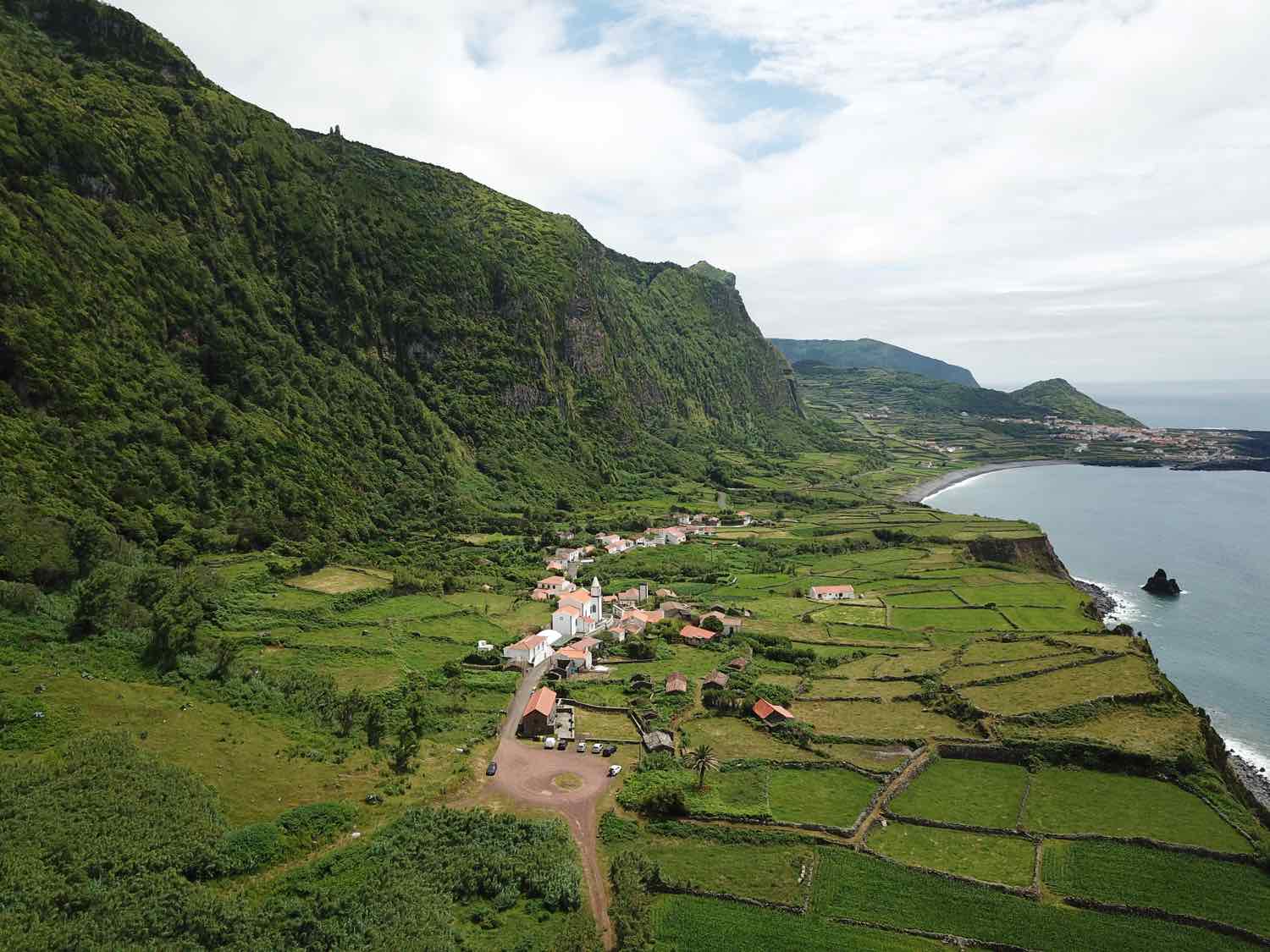 By far my favorite place in Flores, Fajã Grande is tucked away between lush green cliffs and the Atlantic ocean. The ocean sunsets and the waterfalls as a backdrop make it seem like a true fairyland.
There is something quite recomforting on being on the edge of a continent. The feeling of knowing there's nothing between you and the next piece of land, but the wild Atlantic. For me, this is beauty in its purest and rawest form.
Finally, there are plenty of swimming spots in Fajã Grande: the "beach", the port, the natural pools or even go for a swim at Poço do Bacalhau, the only swimmable waterfall in the island.
The 7 Lagoons

There are 7 main lagoons (former volcano craters) in Flores but all fairly close to each other which makes the activity of lagoon-hopping easier.
If you are on a tight schedule and have to prioritize, visit Lagoa Rasa and Lagoa Funda which are side-by-side, but at different heights creating a cool visual effect. Also, don't miss my favorites Negra and Comprida, also side-by-side.
We reserved the day with clearest skies to see all the lagoons, but even so, there were some clouds and fog up there. Locals say it's rare to have a completely cloudless day so the only thing you can do is to be patient. The good news is that the skies can clear up in just a few minutes (literally).
💧 The 7 lagoons in Flores
Lagoa Rasa and Lagoa Funda (side-by-side)
Lagoa Negra and Lagoa Comprida (side-by-side)
Lagoa da Lomba
Lagoa Seca
Lagoa Branca
Unique geological formations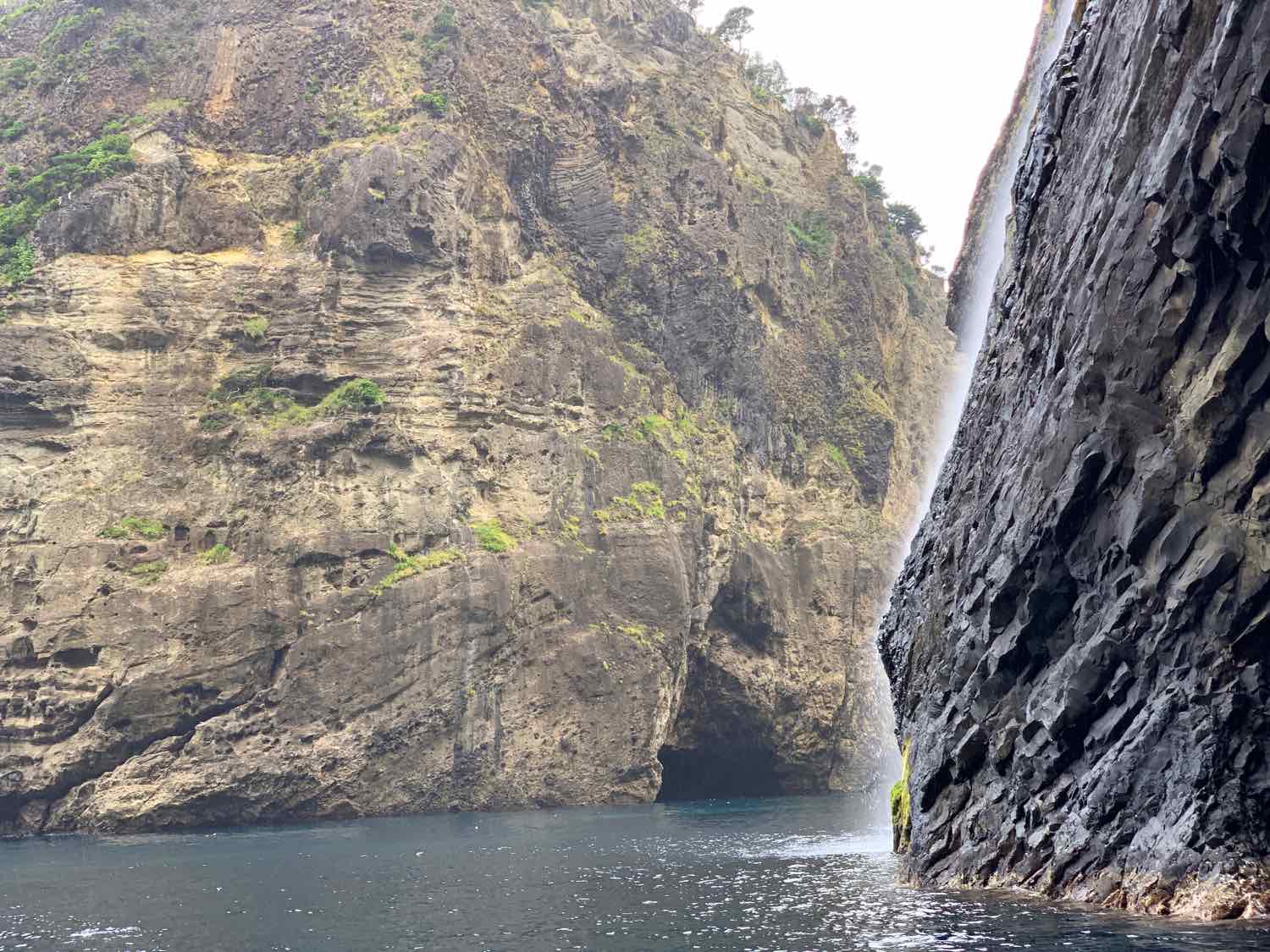 I'm not a geology enthusiast and Flores got me excited, so I can only imagine what it can do to experts. The volcanic origin of the island is omnipresent, from underwater caves to towering rock formations and islets.
Flores' most iconic poscard is Rocha dos Bordões, a one-of-a-kind rock formation that boasts 20-meter vertical basaltic pipes. You can't miss it from the road road between Mosteiro and Lajedo.
But there's a lot more. If you happen to do a day trip to Corvo in a semi-rigid boat, the tour will navigate around some other amazing not-accessible-by-land structures in the northwestern coast of the island, including caves and islets. My favorite was the cave the tour guide named "cathedral", a stunning tall cave right by the ocean. I couldn't find the official name of it, sorry!
🗿 Geological sights in Flores
Rocha dos Bordões – towering rock formation with 20-meter basaltic pipes
Caves – Gruta do Galo, Gruta dos Enxaréus
Islets – Ilhéu de Monchique, Ilhéu dos Abrões, Ilhéu Maria Vaz, Ilhéu de Álvaro Rodrigues
Note: I've marked the major geological formations on this map.
Canyoning
Ok so I'm far from being a canyoning expert – the heights terrify me – but I do know Flores is one of the places in the world to do this sport. Considering the hundreds of creeks, streams, and waterfalls, I'm not surprised.
The activity ranges in difficulty levels, and it can include 200-meter waterfalls. Check this beautiful yet terrifying video to see what I'm talking about.
Viewpointing

Just made up this verb. The point is: the island of Flores is ridiculously photogenic.
Virtually any place where you stop the car will be an improvised spot to take in all the beautiful natural landscapes, but there are almost 20 official viewpoints in the island.
Here are some of my favorites.
👀 Viewpoints in Flores
Miradouro Craveiro Lopes (Fajãzinha)
Miradouro da Rocha dos Bordões (Mosteiro)
Miradouro das Lagoas Rasa e Funda (Morro Alto)
Miradouro das Lagoas Negra e Comprida (Lajedo)
Miradouro do Portal (Fajãzinha)
Note: I've marked the major viewpoints on this map.
Hiking
Coming to the Azores without doing a hiking trail is simply unacceptable. It's the best way to get a sense of adventure going and indulge in the nature around you.
There are 5 official (and marked) hiking trails in Flores.
In Flores, due to the rugged landscape, the difficulty level is either medium or hard. The 22-km hike between Fajã Grande and Ponta Delgada is particularly difficult and reserved for experienced hikers only.
Natural Pools & Beaches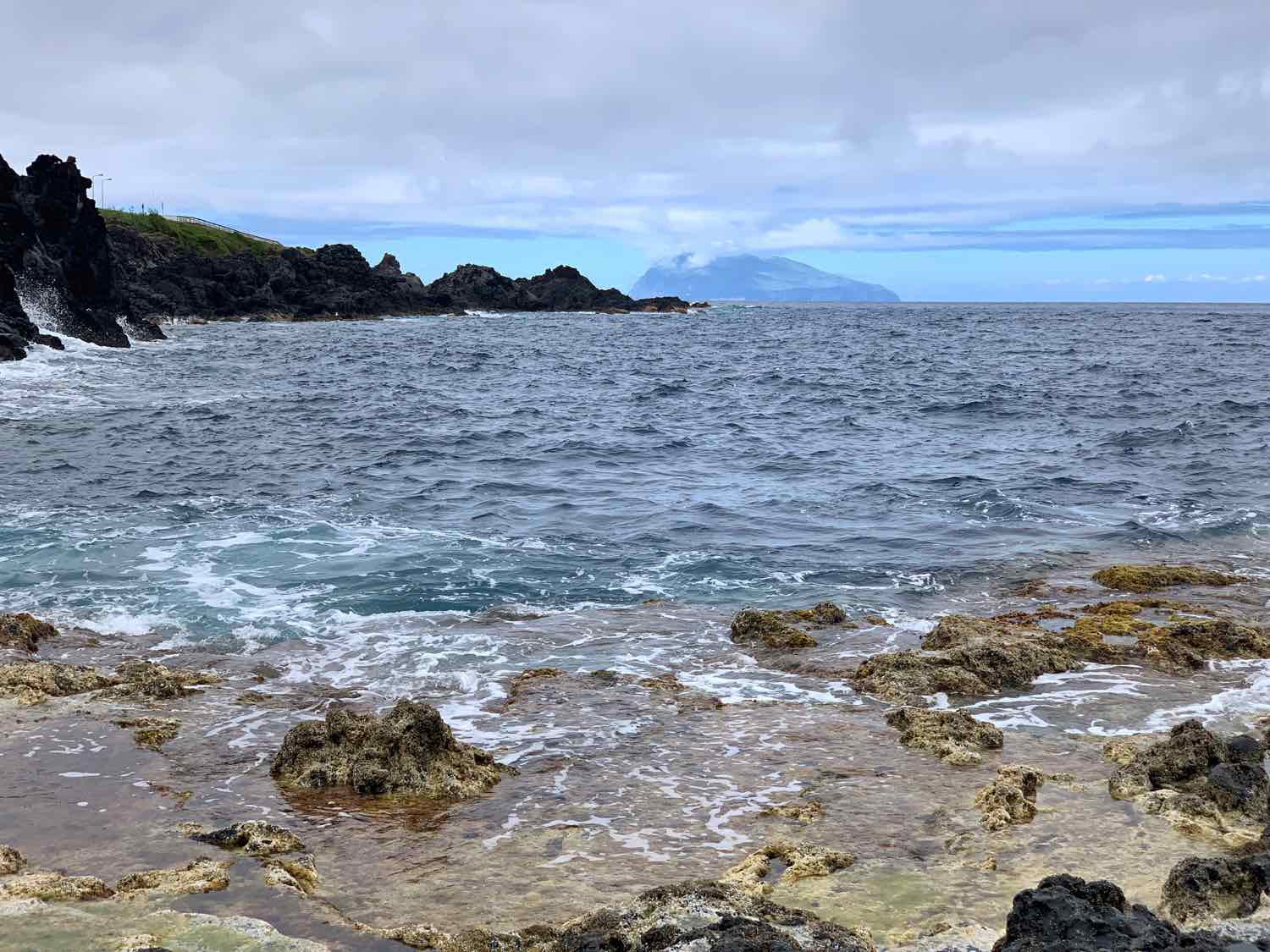 Sorry to disappoint you, but contrarily to other azorean islands, Flores is not a beach destination.
The pebbled beaches in Fajã Grande and Lajes are the closest, but the piscinas naturais (natural pools) in Santa Cruz and Fajã Grande can be superior swimming spots in my humble opinion.
Note: I've marked the major swimming spots in Flores on this map.
Corvo day trip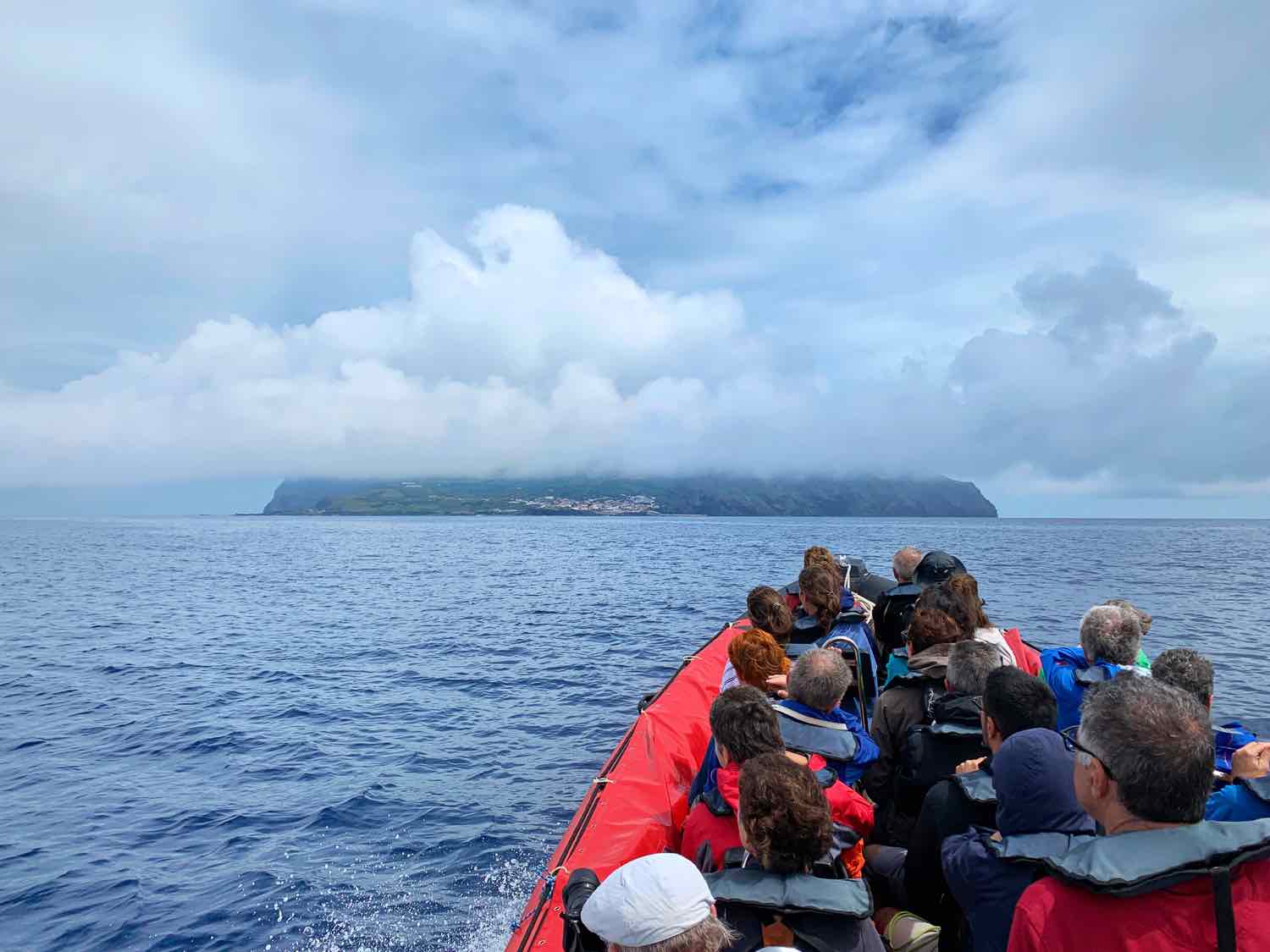 Corvo is the smallest island in the Azores and together with Flores, it forms the most western group of islands in the archipelago (and in the whole Europe, for that matter).
You can go to Corvo island via Atlântico Line ferry. But that's boring. A much more interesting experience is to hop on a boat tour, where you can see the wonders of the northwestern coast of Flores. This includes waterfalls and caves only accessible by sea. The boat trip doubles as a dolphin-watching tour, as you'll also stop to see dolphins or other interesting fauna on the way to Corvo.
Once you get to Corvo, don't miss the Caldeirão, the gorgeous volcano crater on the top of the island.
ℹ Corvo day trip by boat
Out of the few options available, I went with Extremocidente company. The owner Carlos Mendes which was recommended by my host. Simply call him one or two days in advance to reserve a spot.
I traveled next to him (standing up) and could see Carlos is VERY experienced driving his boat between the many islets and cliffs and navigating narrow caves. The trip to Corvo took 1h20 and about 45 minutes on the return.
Where to stay in Flores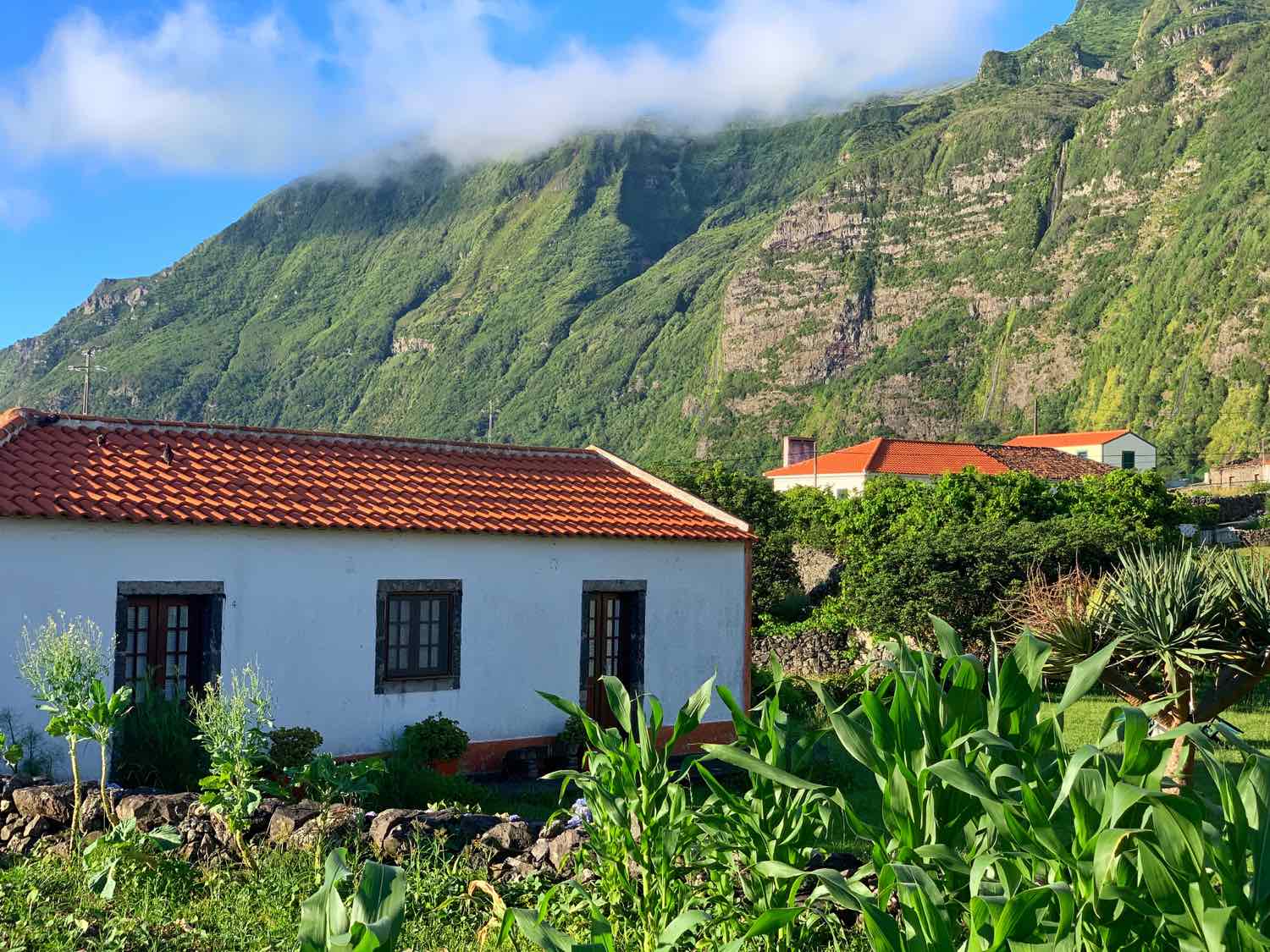 Best areas to stay in Flores
I strongly suggest staying in Fajã Grande.
Firstly, the majority of sights are closer to Fajã Grande than anywhere else in the island.
But being able to wake up everyday with the majestic luscious hills as a backdrop and go sleep at night under a starred sky is priceless.
Accommodation in Flores
Aldeia da Cuada (the ecotourism village) was my first option but was already booked for my dates. Honestly, I was glad because I then visited the place and was a bit unimpressed with the infrastructure. Not worth the premium price in my humble opinion.
I ended up staying at Casa Via D'Água, in the heart of Fajã Grande. This wasn't a bad option at all: beautiful setting, huge areas and outdoor spaces, but some (minor) stuff needed some maintenance so overall it felt a bit overpriced.
I think in Fajã Grande, you're better off staying at a country house or in Sítio da Assumada.
Sítio da Assumada
Wooden bungalows surrounded by the lush nature of Fajã Grande. Quiet, although the waterfalls are close enough to be heard. Great spot for stargazing too!
For other options, you can start your search with my shortlist of top-rated places in Flores or explore the map below.
Flores Itinerary
Here's a sample itinerary you can use to tour the island.
As I mentioned before, I recommend 4 full days: 2 to visit the island, one to visit Corvo as a day trip and another one as a buffer in case the weather plays a trick on you. If it doesn't, use that day to relax, go to the beach, do a hike, or revisit some of your favorite spots in the island.
Days
What to do
1
- Lagoa Negra & Comprida
- Lagoa Seca
- Lagoa Branca
- Poço da Ribeira do Ferreiro
- Poço do Bacalhau
- Fajã Grande Beach
2
- Rocha dos Bordões
- Lagoa da Lomba
- Lagoa Rasa & Funda
- Morro Alto
- Queijaria Val de Fazenda
- Santa Cruz Natural Pools
3
- Corvo day trip
4
Extra! Relax, hike, natural pools, whatever you want!
Flores Island Map
To help you visualize and better plan your trip, I've put all the main natural wonders of Flores, Azores on this map and added pins for swimming spots, viewpoints, and restaurants.

Food in Flores
There are a few good restaurants in Flores, mostly catering for tourists as locals tend to eat out only on special occasions.
Food is typically Azorean, so you can expect dishes based on fresh fish and locally sourced meat. Very limited vegetarian options.
Stop by Queijaria Val de Fazenda for a delicious cheese & jam tasting. The garlic cheese took me to heaven and when I got back, we purchased two bags of goodies to bring back home.
As for unique ingredients, seek araçá, a fruit from Flores, and erva-patinha, a seaweed used by locals in scrambled eggs or as a side dish.
Places to eat in Flores, Azores
ℹBest restaurants to eat in Flores
Papadiamandis – great place for seafood in Fajã Grande, right by the ocean. The restaurant is named after the cargo ship that wrecked nearby and it has delicious lapas and grilled tuna.
O Transmontano – when you call to book a table, the owner will ask you what you want to eat. I've had the baked goraz fish: simple and delicious.
Maresia – only one dish per day is cooked here. Even though the roasted lamb melted in my mouth and the restaurant has a gorgeous sunset view, I found it a bit too expensive for my taste. Maybe it was the €147 wine bottle on the menu?
Cana Roca – I wasn't expecting to come to Flores to eat pizza, but hey, you never say no to pizza. And guess what – it was a surprisingly tasty and affordable lunch.
Apart from these, we've scouted other restaurants.
We've discarded Aldeia da Cuada (the menu seemed too expensive and uninteresting tbh) and A Casa da Vigia (lost the interesting when hearing the chef puts cheese on the pad thai), but please let me know if you try Pôr-Do-Sol in Fajãzinha or A Sereia in Santa Cruz das Flores.

Other useful resources to plan your trip to Flores
Have you been to Flores Island, Azores? What other tips would you add to this guide?
Share your suggestions below in the comments! 👇