I was already expecting it to Malta to have an original look and feel from any other place I've been before. I was not disappointed and now I officially can say La Valletta in Malta is Europe's least European and most unique capital!
When talking about Malta, everyone tends to praise the clear turquoise of the Blue Lagoon in Comino.
But the island of Malta has a lot more to offer and its capital La Valetta is a great example of everything this place is capable of.
EVERYTHING YOU SHOULD KNOW ABOUT LA VALLETTA
La Valletta in Malta is the tiniest capital of the European Union, having a population of only about 6.000 (!). Despite its size, Valletta has been in the middle of a mash of ancient Mediterranean civilizations, it was only natural to think these rich influences would be reflected in the food, architecture and people of its capital.
Not surprisingly, it has an impressive concentration of 300+ monuments and historical sites which are preserved almost entirely its original features. And no wonder Valletta it is one of Malta's three UNESCO World Heritage Sites.
Valletta map and location in the Mediterranean
The city of Valletta is located in the eastern part of the island, spreading itself over a small peninsula flanked by 2 harbours. The distance to the main airport of the island, Luqa, is around 9km.
EXPLORING THE CAPITAL
We arrived at La Valletta at the Triton Fountain Square, the largest bus terminal in Malta. Coming straight from four relaxing days in the beachy idilic north of the island, I was already not used to see people hurrying themselves.  
However, the minute I entered the city gates, I knew I was in the presence of another of Malta's contrasts. While the city can have a busy lifestyle, it still retains a timeless atmosphere coming from its prosperous past: the island of Malta has suffered influence of Phoenicians, Greeks, Romans, Byzantines, Arabs and the Order of the Knights of St John, who founded the city of Valletta. Charmingly, it seems to insist on living up to this vast heritage.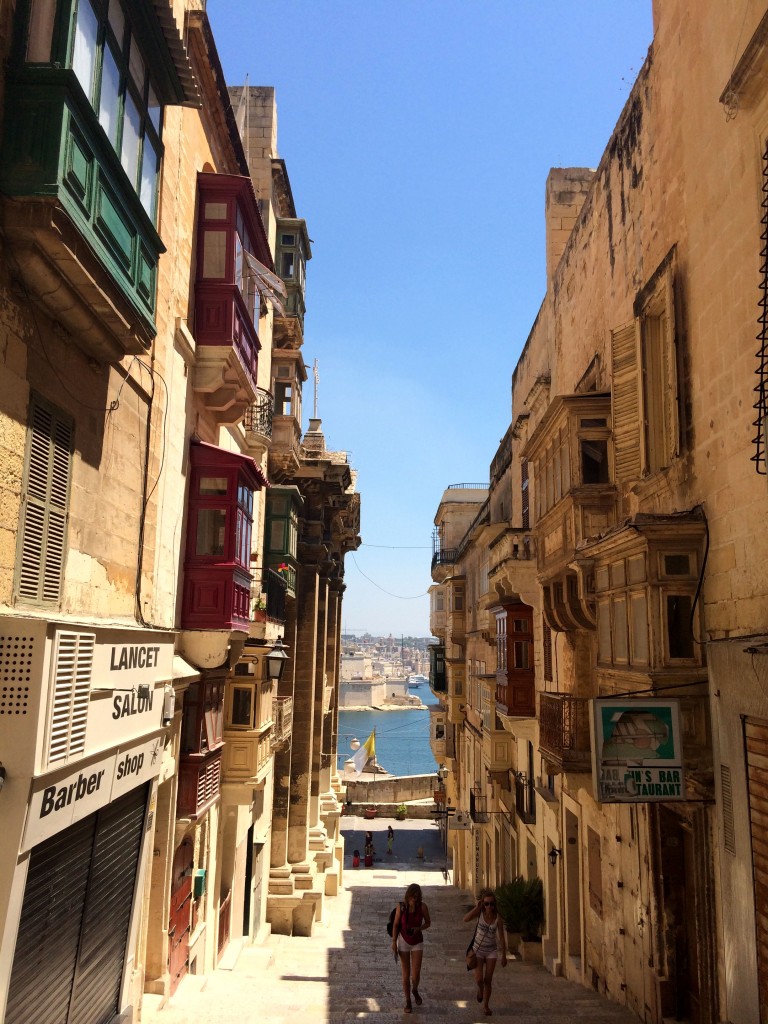 It still lingers in my memory the moment I was facing Valletta for the first time after entering the gates and foresaw a meticulous grid of narrow streets, boasting with palaces, fountains, churches and quaint cafés right in front of me. All in a small peninsula of a small island. Quite remarkable.
Yet, what is more striking to the eye in Valletta are the exquisite architecture details, quite different from the rest of the island. The painted balconies. The door handles. The coat of arms in the walls.  It all takes you to a place much that seems much more far away than Europe.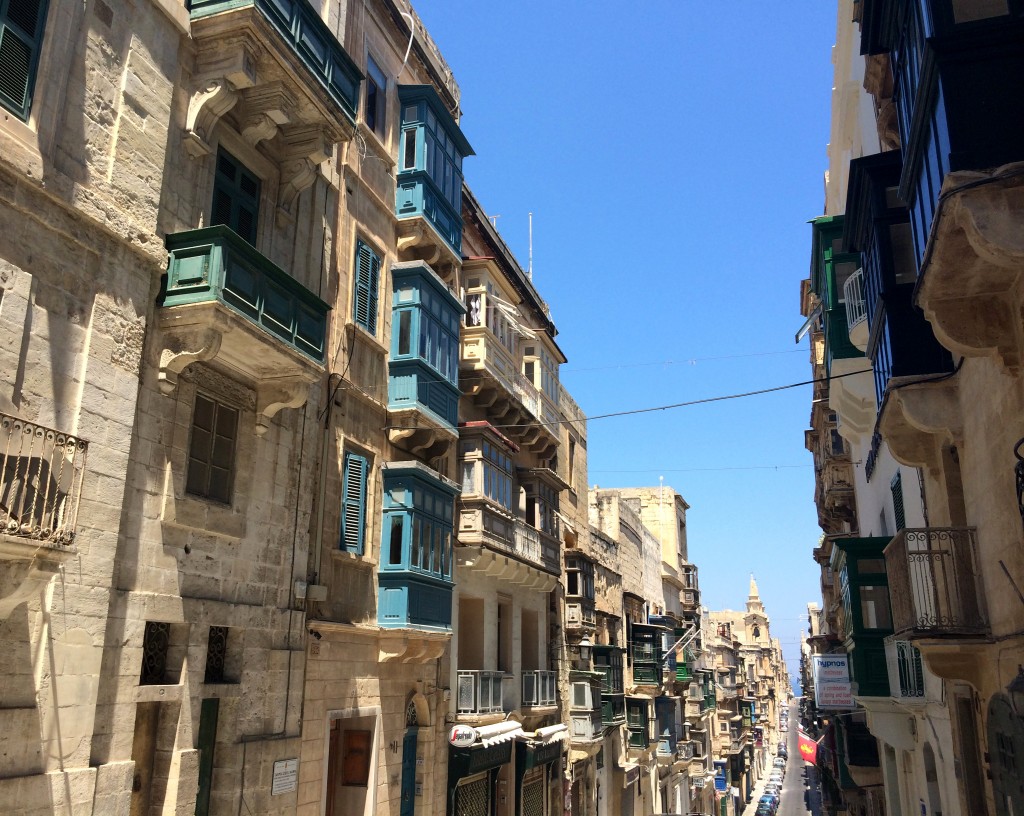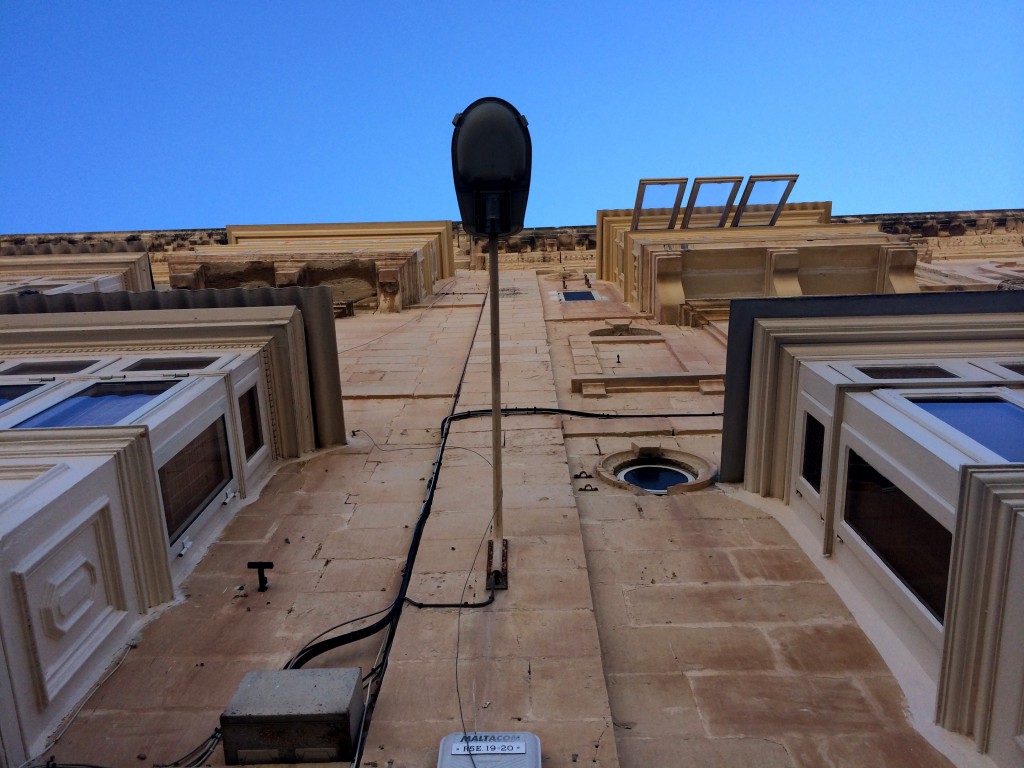 It was strangely quiet. No cars, no crowds, just us on the streets. It was Sunday afternoon and the tourist crowds we encountered around the entry gate seemed to have dispersed through the city urban grid. Or they were just too lazy to climb the steep streets under the hot July sun.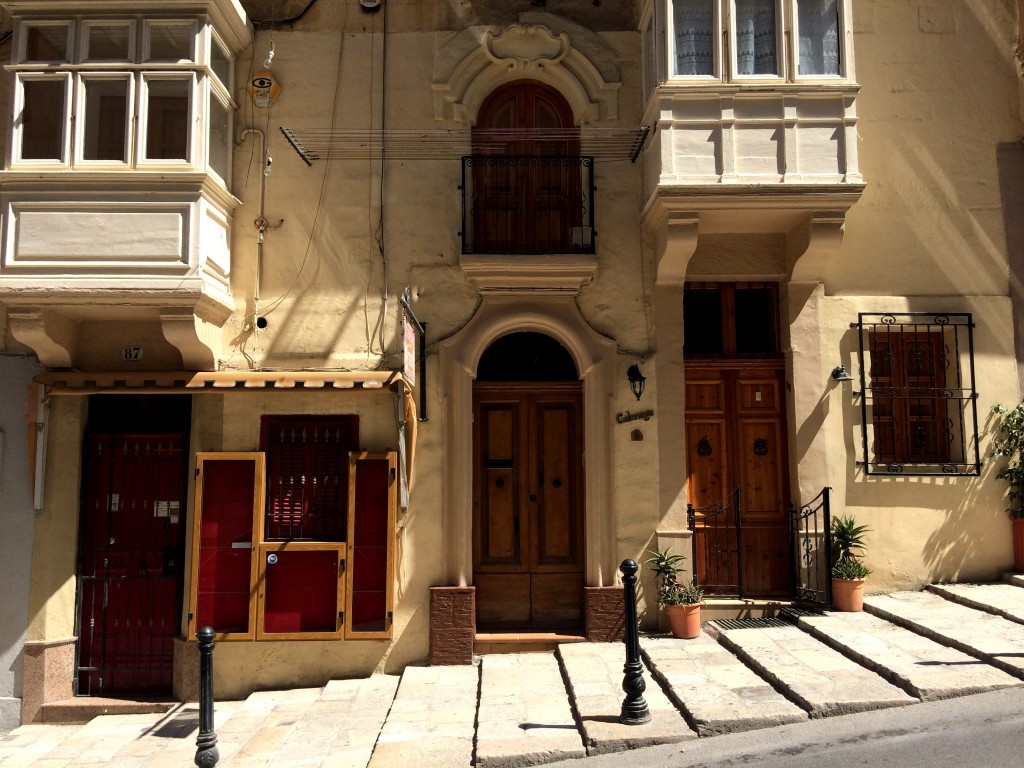 At this point, Valletta really had my brain confused:
I was in a 21st century european capital
I just heard Maltese all around which REALLY sounds like Arabic!
There were London-styled red telephone booths
The buildings had half-Arab, half-Baroque architecture
The overall feeling was of an cosmopolitan city stuck in the 50s
Besides, there was a ton of cats around. How much more cool can this place be?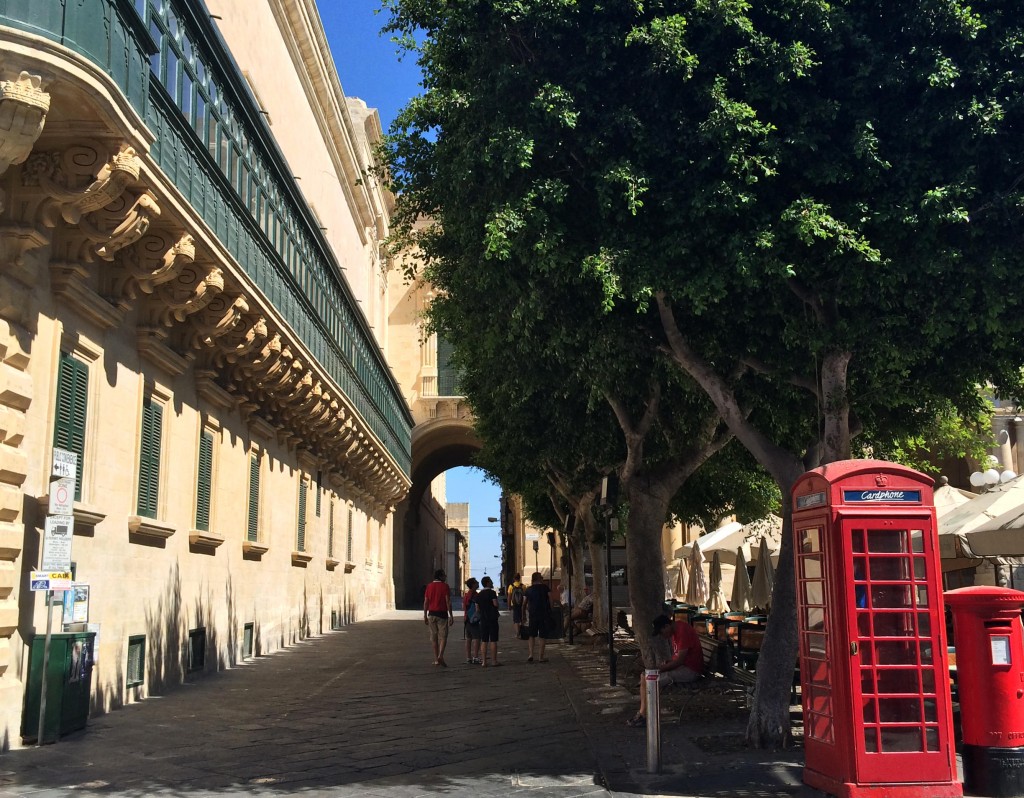 NOT TO MISS IN LA VALLETTA
One spot that cleary exceeded my expectations and that I have to define as not to be missed in Valetta are the Upper Barakka Gardens, in the southern end of the peninsula. From this privileged vantage point, one has stunning views of the Grand Harbour and the Three Cities (Vittoriosa, Senglea and Cospicua), cities enclosed by a massive line of fortification created by the Knights of St. John. I really wish I had the time to explore those cities, but it would consume too much of our time. Options, options, options.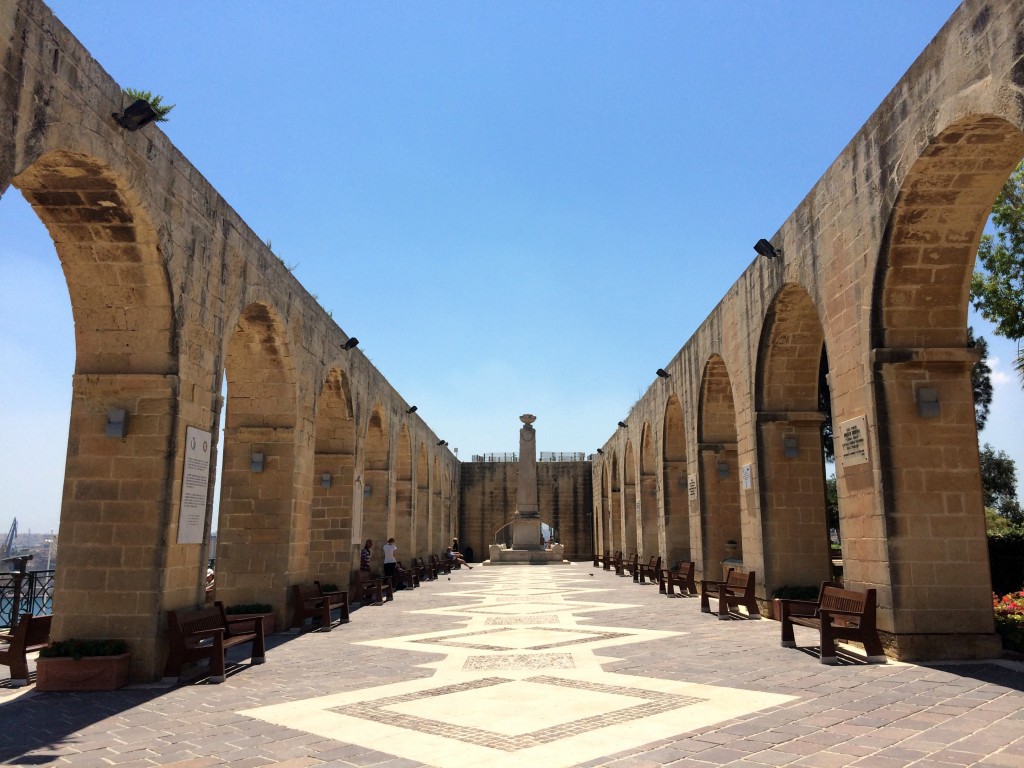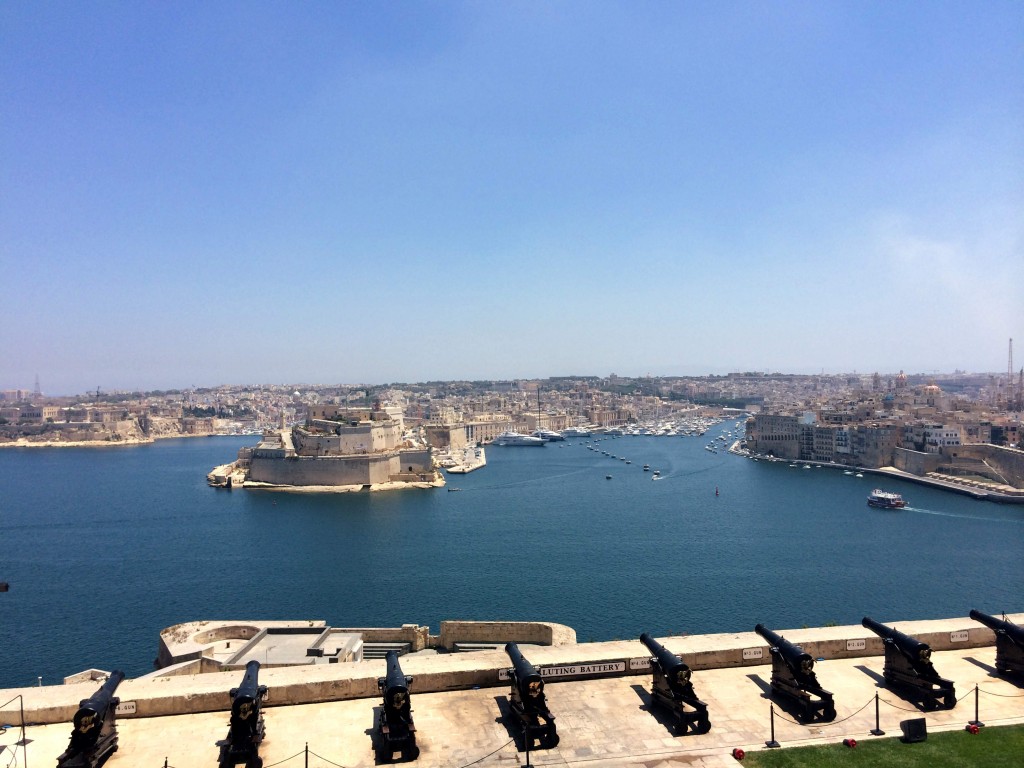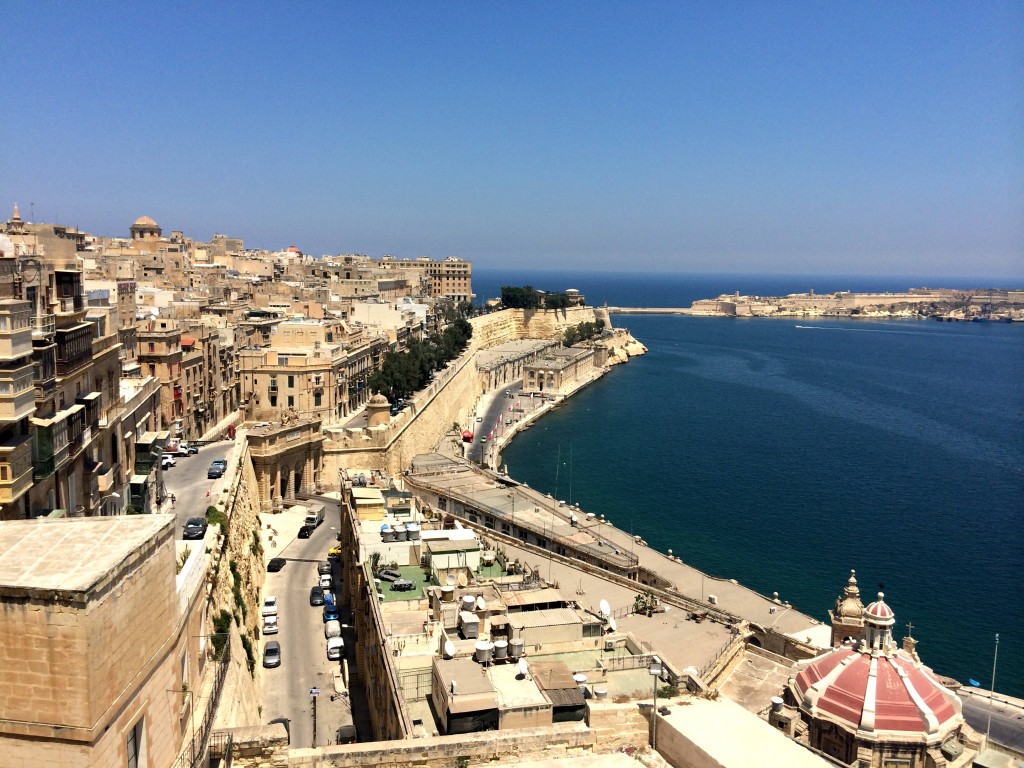 After almost a full-day of exploring this little treasure-city, we got the ferry back to Sliema, the lively shopping town where we stayed during our time in southern Malta. I highly recommend making his journey at least one-way, as it only takes 10 minutes and you get to experience another perspective of Valletta's cityscape.

MALTA'S PEARL
Valletta is really a city of details. To fully understand it, you need to dedicate some time to it and have a keen eye for the tiny elements around you. Otherwise, it will just be a missed opportunity to experience the most unique european capital.
MALTA TRAVEL INFORMATION
How to get there
Even though there are ferry boats available, you'll want to get to Malta by air. Malta Luqa airport is well connected to several european countries, specially Italy, Spain and the U.K.
Where to stay
Valletta or Mellieha are some interesting places to stay in the island. Avoid St Julians or Sliema unless you're in Malta just for the booze.
I've pre-selected the best hotels in Malta island for you to start your search. These are well-located, with WiFi and with good-to-excellent reviews, can't go wrong!
How to get around
As for transportation, the decent network of buses is a great value-for-money option to get around in Malta. I feel that is safer than driving in the road madness of the island. Find out more details in my All About Malta Island article.
Do not miss
Mdina, the Silent City. The Blue Lagoon, despite the crowds and some jellyfish. And the views from the Grand Harbour from the Upper Barakka Gardens.
What to eat
Pastizzi. These palm-size layers of crispy pastry filled with either ricota cheese (the best ones) or pea (funny taste) are cheap street food and a very tasty snack! 
HAVE YOU BEEN TO LA VALLETTA?
HOW WAS YOUR EXPERIENCE?