2014 is ending and has been a good ride. But 2015 is the year I have been waiting for!
FLASHBACK OF 2014
It's that dread time of the year everyone makes balances and throwbacks on how amazing their year was and specially in the case of travel bloggers, how many awesome trips have they done. It is inevitable. I am afraid my year was just OK. I feel my time has been consumed by other little (and other not so little…) changes in my life – like moving to Barcelona, Spain. That's a first, if not the only one, NYE resolution right there: more time to travel.
Nevertheless, I still experienced some cool travel moments like enjoying a magnificent sunset in Piazzale Michelangelo, Florence or swimming like an otter in Blue Lagoon in Comino, Malta.
2014 was also my first year of travel blogging and I have to say I never expected such a positive feedback in such a short period of time. Thank you for all your comments, emails and messages, they truly help me keep me going and do it better even though Geeky Explorer is not a full-time project… yet! I'm still getting the hang of this, as a matter of fact I feel I am learning every day (seriously, reading my first post again I'm ashamed of myself).
TOP TRAVEL MOMENT OF THE YEAR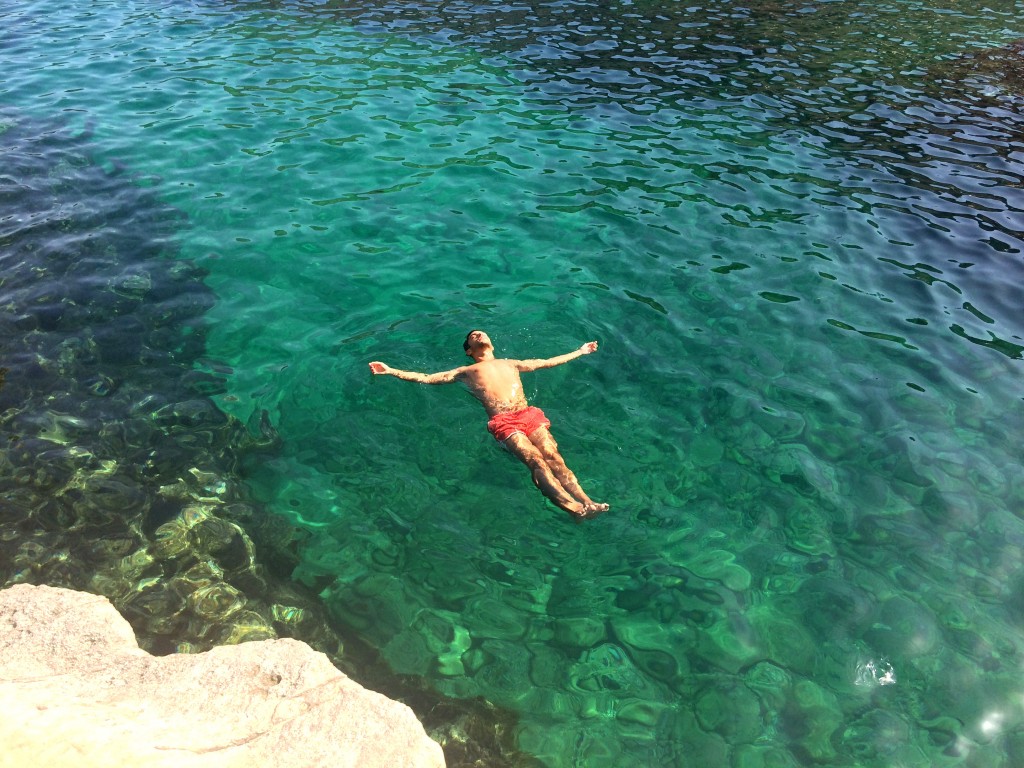 This was taken in St. Peter's Pool in last July on what probably was my favorite destination this year: Malta. Maybe it just felt right because of the timing, as I had just overcome some weeks of much stress. Regardless, being an islander, I never thought I would enjoy another island so much and felt a little tiny bit of guilt to betray my beloved Azores. But there's room for this place in my heart: Malta is pure bliss and I'll be sure to come back.
WHAT 2015 HAS RESERVED FOR ME?
2015 is the year I have been waiting for Geeky Explorer to rise to another level.  I have a clear goal in my mind to keep Geeky Explorer growing and make it shine throughout next year, while doing what I love do to the most: to explore the world.
Travel wise, I have no idea where I'll be going. I don't even like to plan long term. My trips are usually planned with a maximum of 2 months in advance, so all I have for now are ideas. I have a mini-bucket-list for 2015 and I will be sure to tick some destinations off!
1 | THAILAND
Wow. A travel blogger that hasn't been to Thailand. You probably all thought this was an extinct creature but it exists and I'm the proof! I hope to make up this critical mistake in late 2015 as Thailand is my top priority destination this year. And I want it all: the north, the south, the jungles, the temples, the beaches, the pad thai, the smiles. Everything! Eventually I will combine it with one of its neighbor countries Vietnam or Cambodja, but I don't want to make it too much of a rally. Anyway, Thailand, I'm coming to get you in 2015!
2 | BRUGES
I've been traveling through many countries in Europe and for some reason Belgium has always escaped my itinerary. Well, to be completely honest, it was probably because I'm more excited to go to a bunch of other european cities rather than Brussels. But Bruges is different. It emanates a bucolic and engaging charisma very hard to find. And since I saw the movie with the same name, the city has gone up on my list big time. 2015 will be the time to finally put my feet in this charming place while indulging myself in loads of waffles and belgian chocolate (got to make up the fact I'm not a big fan of beer!).
3 | ICELAND
2015 might just well be the year of the islands as travel destinations. A few years ago, Iceland was under my radar but not really a OH-MY-GOD-I-MUST-GO-THERE destination. In the last two years or so my mind has developed kind of an utopia around this island like it was a dreamland. Could it be from the tales of elves living there? The ice caves? Or the Aurora Borealis is enough of a reason? IMHO and despite its harsh climate, I think it all adds up for Iceland to be a magical place to visit.
4 | MOROCCO
I always have had all the reasons to go to Morocco, number one being proximity. Thinking globally, it's just around the corner. Well, maybe being so close is exactly why I haven't been yet, but the desert landscape has always been secretly present on my bucket list. So, if the stars and the camels are aligned, 2015 might be the year to go to Africa for the first time. Marrakech in particular is such a lively city and completely different from where I've been so far. Oh, have I mentioned I want to ride a camel?
5 | AZORES

Inevitably. No matter how far I live, how far I go or how many trips I make, I must come home at some point. There's where some good friends and specially where my whole family is. Besides, nothing like a few days back home to re-energize yourself with the scents, the views and the noises you were used while you grew up. I have been trying to go to Azores 2-3 times/year but two things have kept me from going more often:
The world has so many places to visit. I find myself in the middle of titan clashes between my home sickness and my travel obsession!
Discouraging price of the flights.
One more reason to go to Azores in 2015 is that the latter might be become obsolete real quickly. Currently, flights to the islands are limited to two public airlines (SATA and TAP), but this is about to change in March: Ryanair and Easyjet are already selling considerably cheaper flights between Ponta Delgada and mainland Portugal as well as London. I predict a mini-tsunami of visitors to Azores this year and I want to make sure I'll be there as well.
These are only my top desire destinations for this year, which doesn't mean I will visit all of them. I wish. In fact, I could be visiting none of them and heading to other places like Turkey, Sweden or New York City. Let's see what 2015 has reserved.
What about you? Which was your top travel moment in 2014?
What have you reserved for 2015?