Within such a massive touristy city, it's easy to get lost. Follow this simple guide to eat good food in Rome. Because in the end if you don't leave Rome with a few extra kilos you didn't do it right!
I am a big fan of Italian food. It's comfort food done right.
Once the capital of a huge empire, Rome is now also the capital of the yummy Italian food. Probably every city in the world has an italian restaurant. Pizzas, bruschettas, pastas, gelatos all make the most copied food model because it's simple and yet so delicious!
Don't get me wrong, Rome has MANY good restaurants, but don't just swallow everything at first sight. Don't be one of those innocent tourists praising over frozen pizza and generic gelato full of chemicals. It gives me a heartbreak.
There is a difference between Italian food ready-made for tourists and the authentic Italian food.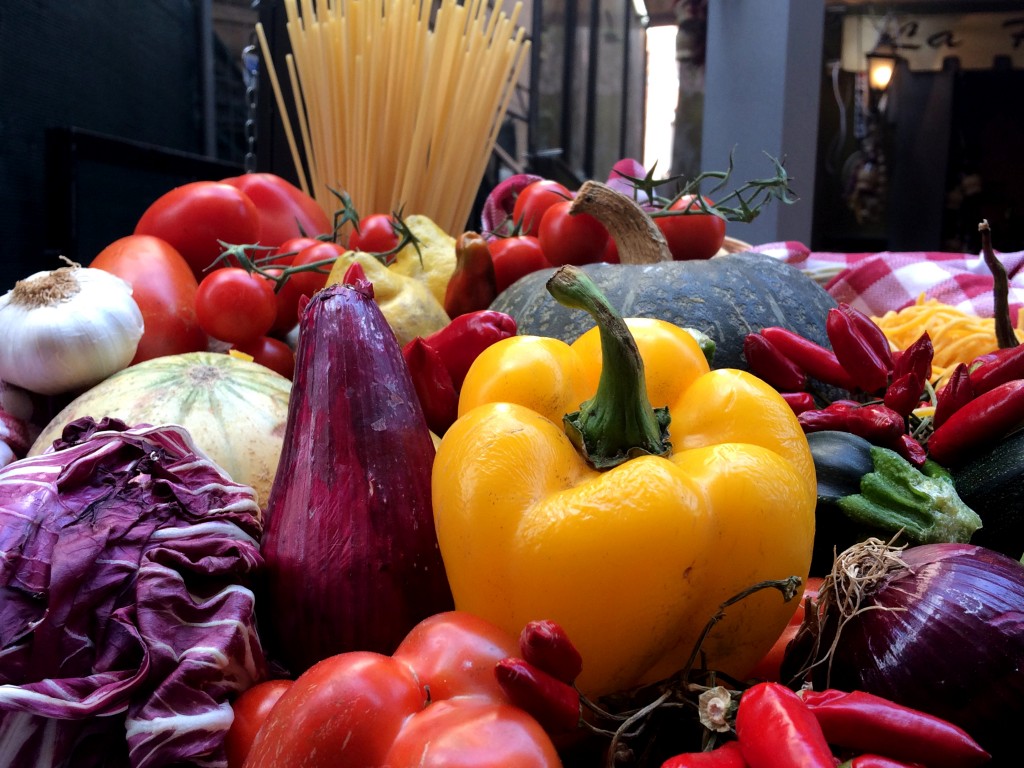 Ladies and gentlemen, I introduce you to the Italian food triad: Pasta, Pizza and Gelato.
PASTA
Being in a tourist-packed city, you come to realize that not all of its restaurants are truly Roman. Many cater to tourists, serving up Italian food that isn't Roman at all. The best example? Spaghetti bolognese. Bolognese –> Bologna. Shocker?
What is the authentic Roman food (cucina romana)?
Overall, the real Roman food is heavier on meat and butter and less focused on pasta with red sauce.
Bruschetta: Pronounced "broo-skitt-ah", it is the most popular starter in Roman cuisine. A piece of toasted bread, rubbed with garlic and topped with olive oil and tomatoes. Yam.
Saltimbocca alla Romana: Veal medallions, prosciutto and sage cooked in white wine.
Spaghetti alla Carbonara: It's painful to imagine life without it but trust me, it will be harder when you leave Rome without trying one.
Spaghetti Calcio e Pepe: The ingredients of this very simple spaghetti only include black pepper and Pecorino Romano cheese.
This obviously does not mean there isn't good Spaghetti Bolognese scattered by the Eternal City. There is. The proof was that my best meal in Rome was eating an amazing Bolognese at Sapori e Delizie.
It is exactly the kind of place that I love eating at with fresh authentic food prepared fresh in front of you. It a small place and incredibly cheap: my Bolognese was 5€ and all the pizzas were in the 5-7€ range. It was so good we came back a second time – and I don't usually repeat restaurants when I'm abroad!
PIZZA
There are dozens to choose from, so please don't ask for american-influenced ones, like Hawaiian pizza. There is no such thing. While is there one pizzeria in every corner of the street in Rome, all roads – and thin crusts – lead to the bustling pizzerias in Trastevere, the unique and ecletic district of the city, where one can find the most typical Roman bars and restaurants.
It was there, in the overly packed Cave Canem Pizzeria that I ate my favorite pizza of them all: the Diavola. I've tried dozens of Diavolas before, but none with a pepper (peperoncino) so spicy like this one. This devilish pizza made my eyes pop out of the orbits.
I suggest you to ask about how spicy your peperoncino is before you order a Diavola. If you are not keen on the spicy side, Funghi & Prosciutto (mushrooms and ham) or the traditional Romana (tomato, mozzarella, capperi and anchovy) are safer options.
GELATO
OMG where to start? First of all, some background: gelato is NOT the same as ice-cream. It's denser, richer and mostly made with milk (whereas ice cream is made with… you guessed it, cream).
From my vast experience in eating gelato, a good bunch of the 2000+ gelatterias in Rome have moderate to good gelato. Then there are the ones who serve the fake thing (made with a powdered mix!) which should be avoided at all costs and the ones that make the genuine astisanal gelato with all natural ingredients that gives you a foodgasm. Obviously these are the places you want to look for.
How to spot a good gelato?
Look for seasonal flavours. If you see watermelon during winter time, something is wrong.
The shape is important. Huge mounds above the metal container are a huge red flag, meaning the gelato has a lot of air which means it's fake. Simple as that.
The color is also decisive. There are some flavors that can work as real gelato spotters, such as Pistachio, Mint and Banana. Pistachio should be an earthy green, Mint white and Banana a light-grey. A good rule of thumb is that you are looking for muted colors instead of neon/strong ones.
The best gelato I had in Rome was in Grom. It's a classic gelatteria with a modern take and it's crazy good. I liked the detail of flavor combination guides on the wall and I almost flipped when I tried the Melon – I can even taste it right now.
Everybody talks about Giolitti, but I really think it's one of those places getting its fame from the past. My experience there was of a very icy gelato (probably not fresh).
You can find a lot better in Rome, like Fatamorgana or Il Gelato.
How was your experience eating in Rome?

How much weight did you put in? 🙂