My first travel app review on Geeky Explorer. Find out why TROVER is marking its path in becoming a potential killer travel app.
My initial thoughts on TROVER were it looks like a mix of Pinterest and Instagram. And I certainly didn't need another social network in my life. Yet, for the sake of curiosity, I created a profile and peek after peek, day after day, I became hooked. Although there is room for improvement.
WHAT IS TROVER
Trover is a photography app and website that allows travelers to visually search and share their discoveries (that's how they call it) while exploring a given place. This can be a memorable experience at a restaurant, a piece of art or a beautiful landscape. The idea is to share a travel insight with other travelers which capture an inspiring moment or experience.
Comparisons with Instagram or Pinterest are unavoidable and for a long time, this was the reason I didn't give Trover enough credit. I think it was just another social network of the hundreds coming daily from the factory of social networks. Today, I think it is great to have an app where I can see beautiful TRAVEL pictures (no cats, jewellery or make-up advice photos in between my feed) very often with thorough descriptions that entail useful details about how to get there, what to do, and more.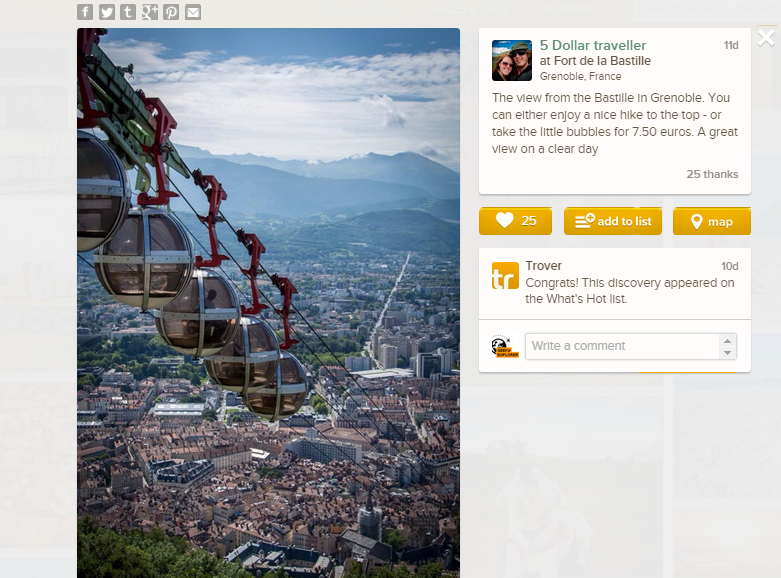 USABILITY
Trover shares with Pinterest and Instagram the strong visual identity which is the basis for their success: it is extremely easy to find my way through the image-based interface and I can retrieve the information I want quickly so I can focus on the destination itself. This is the strong point of Trover I think.
Being a travel app to be used not only before the trip, but mainly during the trip, the user experience should be superior in the mobile app. And it really is, although there are some annoying bugs that sometimes make me shift for a website desktop use. Like when the app crashes and unexpectedly quit whenever I am uploading a new discovery. And even more frequently when I add a discovery to some list to only find out the next day that it's not there. Those are major issues that have persisted for a while now but I am confident will be solved in the following release versions of Trover. I also wish the app had an option to see your feed with just images (similar to the website).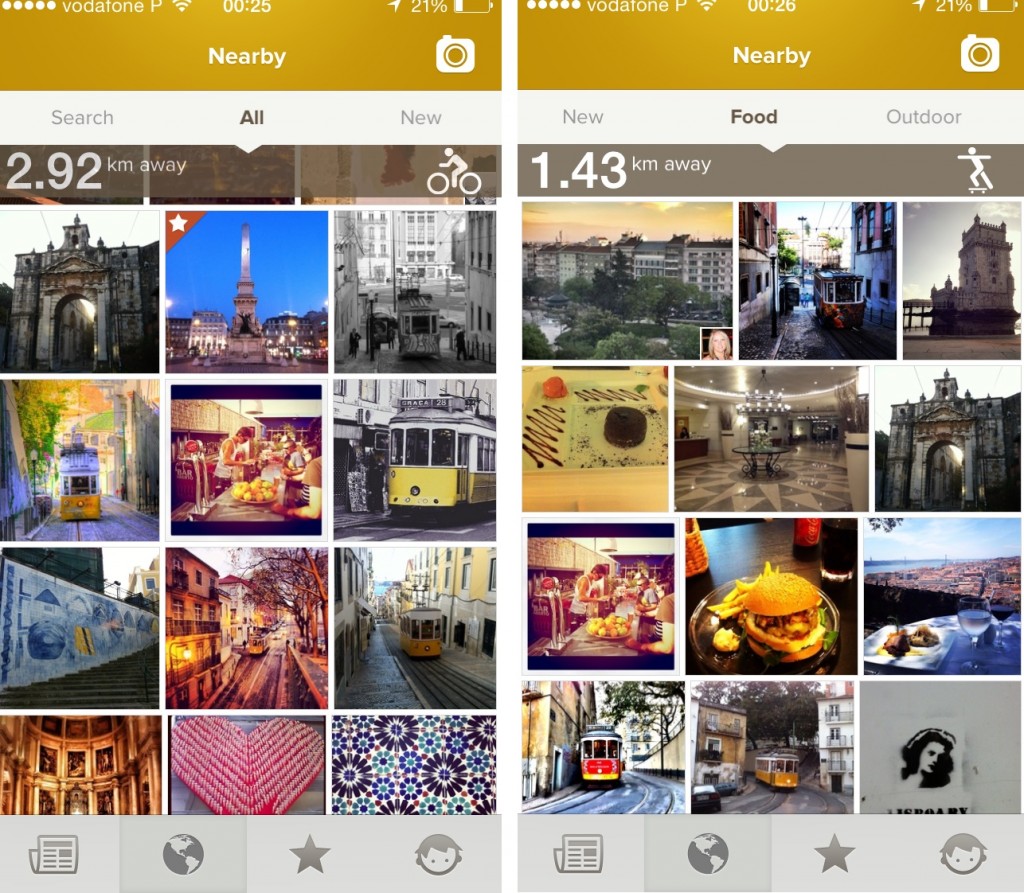 WHAT I USE TROVER FOR
Explore nearby places. My favorite feature in Trover is the Explore option which allows you to see nearby discoveries sorted by food, arts or outdoor categories. It is a great way to make sure you don't miss an exciting activity or spot in the surroundings.
Travel planning. Planning a trip using Trover is much fun. You just search by a location, start browsing through hundreds of pictures and save the places you find most appealing to a list. I planned my recent trips creating lists of discoveries from other users taken in Italy and Malta. You will probably require an additional sort of information for your travels like I did, but it can be an exciting tool to use, specially during the initial stages of planning.
Seeing random pictures. Whenever I'm bored or feeling the urge to get away, Trover is my best friend. Just open it and scroll through the feed to see inspiring places that enlarge my already-enormous bucket list. Plus, often the descriptions are really descriptions (not only boring subtitles) of what is depicted, which makes the experience much more engaging.
Share my own discoveries. As I travel around, of course I want to share some of my own discoveries so that others can find them too. I have tried to group my photos in more or less the same way I did on Pinterest, although I confess I must spend a couple of hours organizing my whole collection. Anyway, on my profile you can find lists like Impressive Architecture or Om Nom Nom (my food pictures).
FINAL REVIEW
Visual-based interface, which really boosts its intuitivity
Easy and fun to use
Great useful descriptions on the pictures, which not rarely enclose great travel tips from the users
Excellent travel planning tool
Some annoying bugs on the mobile app
iPhone app hasn't got an image-only feed
The competition from the giants Pinterest and Instagram or other similar websites like Embark is a threat
What is your opinion on Trover? Do you think it can be an app for masses? Have you got it on your phone already?
Make sure you start following me so we can share some discoveries!
—–
This article was not created through a partnership with Trover. The content & opinions on this post are entirely my own.