As soon as the little boat approaches the Blue Lagoon in the island of Comino, you can't help but stare at the water.
First of all do not confuse this Blue Lagoon with the one in Iceland!
It's probably a useless reminder since they are dramatically different and in opposite sides of Europe, but hey, you never know. Blue Lagoon in Comino one is also named Crystal Lagoon and stays in a narrow bay between the little island of Comino and the even smaller islet of Cominotto. In the heart of the Mediterranean (sounds so exotic doesn't it?).
It is one of those places I have always dreamed to be, so the moment I landed my feet on it was accompanied by a sense of accomplishment. And then a sudden rush to dive into the azure waters.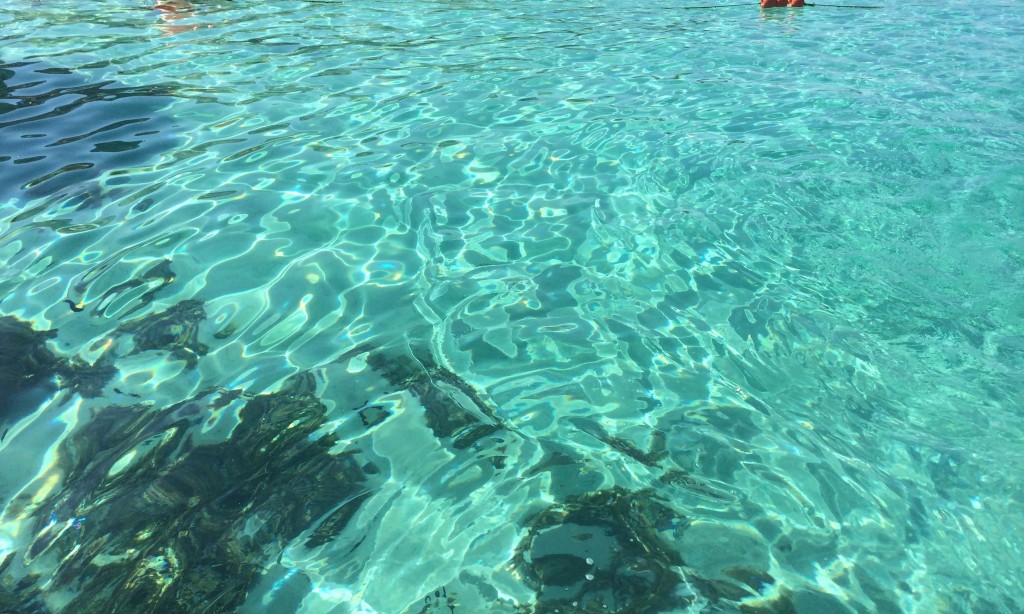 GETTING TO THE ISLAND OF COMINO
The boats leaving to Comino depart from the north of the island of Malta, in Cirkewwa ferry terminal. I got there early in the morning using the 42 bus, from Mellieha, but there are many other buses with its end stop near the terminal.
We weren't outside of the bus yet and already we were being spammed by the ferry companies sales people. There were 6-8 men surrounding the exit door of the bus almost shouting at the passengers and waving with dozens of fliers. Crazy. You really need to choose one of those as contrarily to what I was expecting, there are no official ferries to the island of Comino. The journey costed 10€ (including a visit to Comino caves in the return trip) and it is 15-20 minutes each way.
Or you can simply stay at the only hotel in the island: Comino Hotel.
Don't let the prices rise more, book your accommodation today!
How to get to Blue Lagoon from St Julians, Sliema or Paceville
The 37, 41 and 42 buses connect the main points in the island to the Cirkewwa Ferry Terminal which has regular boats to Comino and Gozo. Check the entire map of Malta's bus routes for more detail.
There are other options to get to the Blue Lagoon if you are willing to spend a bit more money. Half-day and full-day cruises depart everyday from Sliema and St Julians. See Captain Morgan for more information.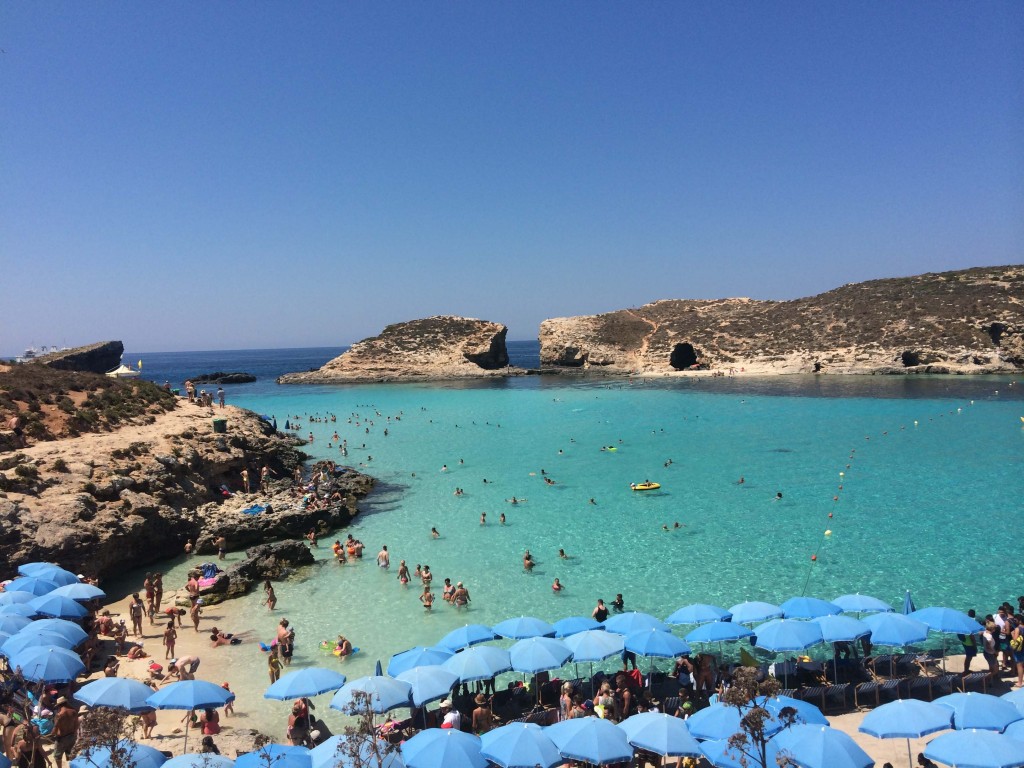 FIND A SPOT
Unless you are coming on a fancy cruise drinking your glass of champagne, the first step is to find a base to put your stuff. Several options here. There are chairs available to rent. For families or elderly, this a good option. I didn't like it as they are sitting on top of each other. You can't even stretch your legs without touching your front neighbour's booty.
Option B is sand. Despite being a long bay surrounded by rocks, Blue Lagoon has a little strip of sand located in the islet of Cominotto (just opposite to Comino). A comfortable place to relax, but either pay for a water "taxi" to take you there or risk walking across the bay with your belongings on your head.
We decided Option C: to stay on the rocks. We found a not-too-uncomfortable spot to lay in.
WHAT TO DO
As a giant swimming pool filled with seawater I had to spend most of my time swimming, diving, snorkeling and floating at the water like a dead fish. With our GoPro replica we got some really cool underwater videos (I will share them later!).
I am glad I also did some exploration in the land as I managed to get amazing views, not only from the Blue Lagoon, but from the islands of Gozo and Malta as well. Just be sure you take your shoes with you. I found out the hard way that climbing sharp rocks in Cominotto barefoot was not a good idea for my feet.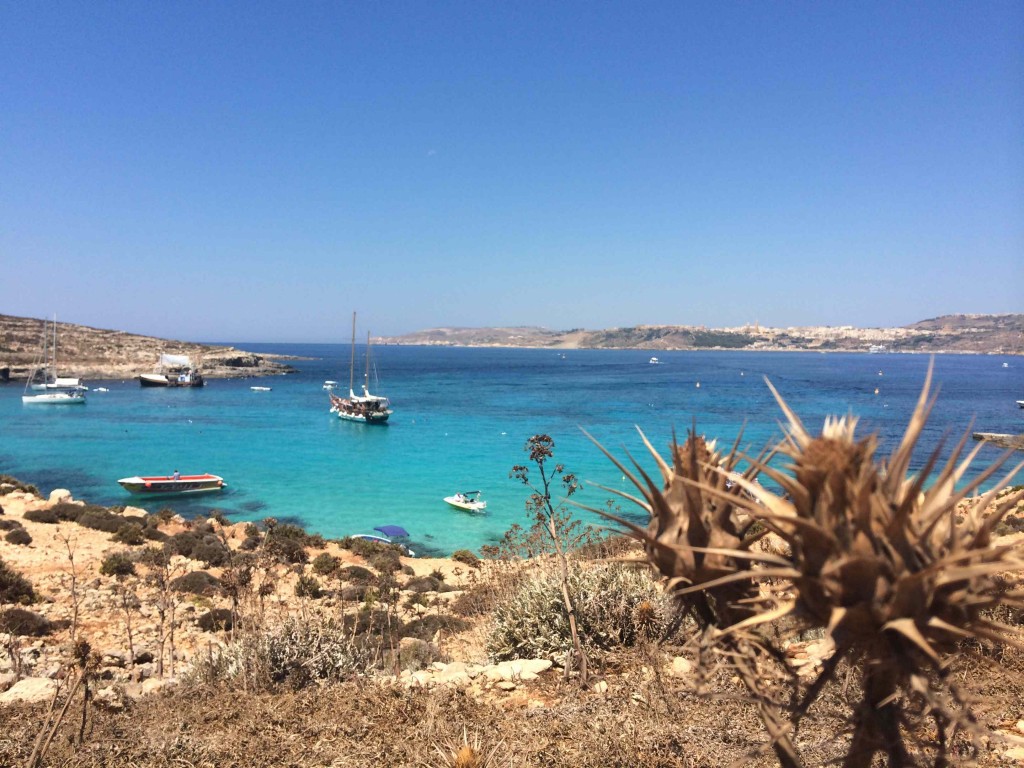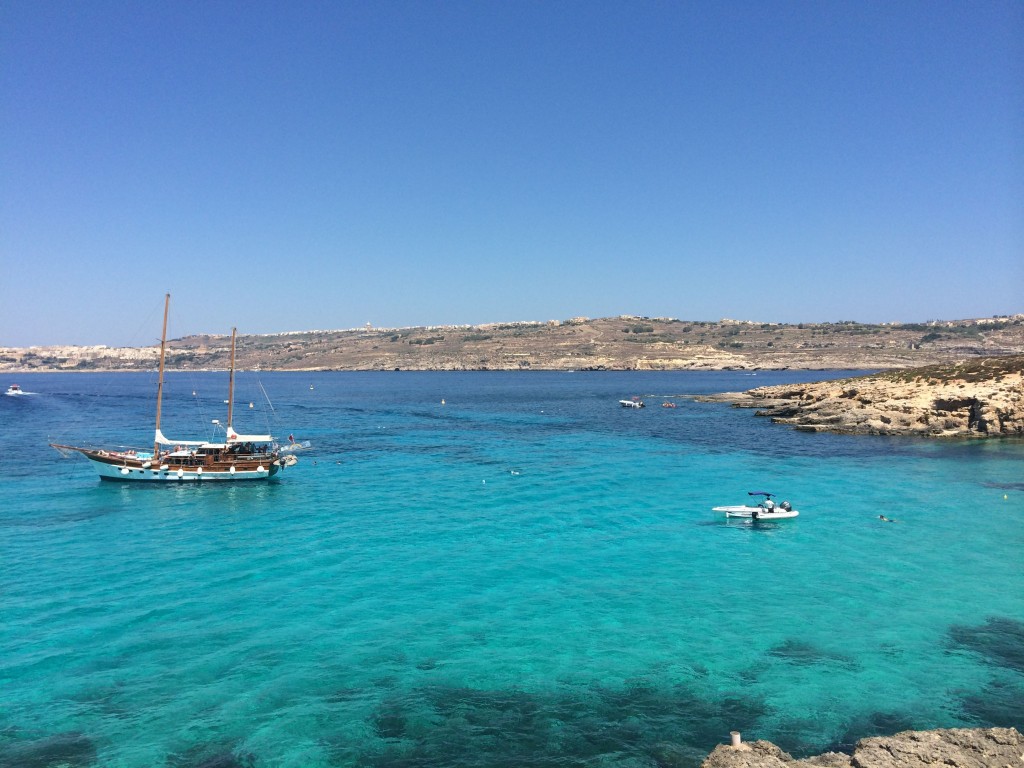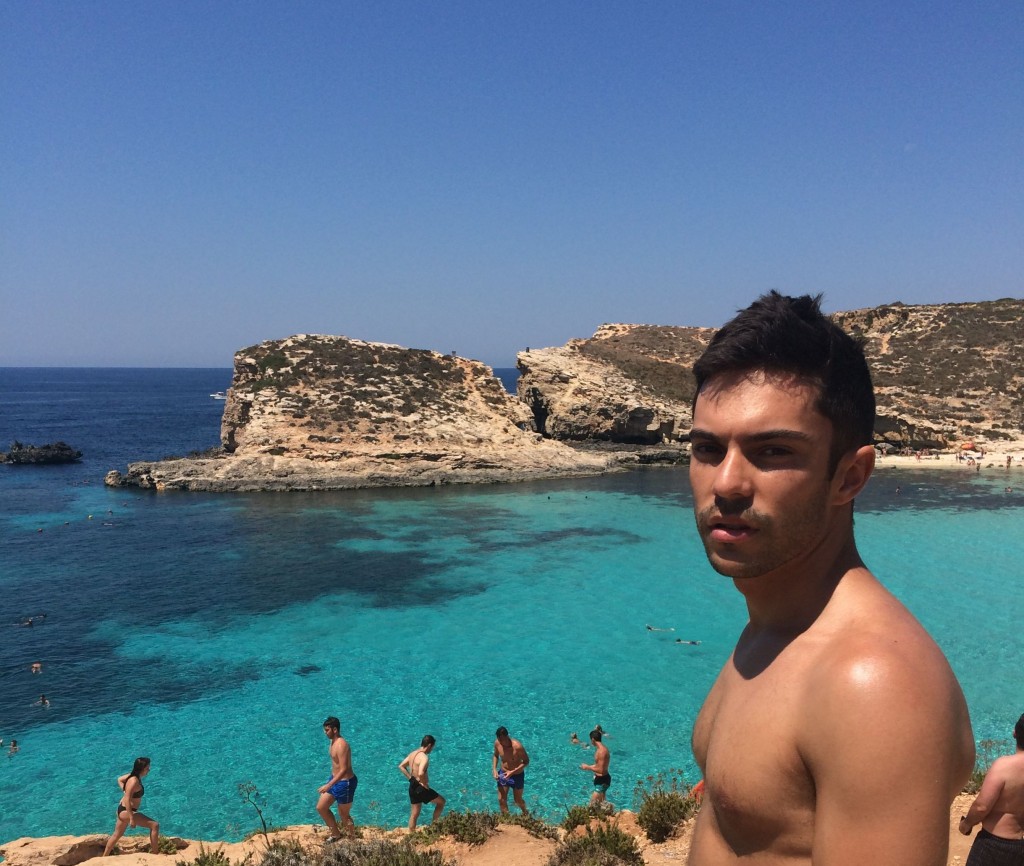 You can also find more adrenaline-oriented water activities in the island: water ski, scuba diving or the riding of those ridiculous bananas.
Eventually you'll be hungry. Considering Comino island has only 10 (!) inhabitants, I was not expecting to see so many roulottes there when I headed for lunch. They were a bit overpriced and had only junk food, but that was just what I was craving for after a morning filled with explorations. I had a delicious BBQ chicken sandwich with lots of sauce. yam!
THE RUSH
Until then, this had been a little paradise. However, with lunch, our experience got worse: J. got stung by a jellyfish (which is apparently normal in the summer peak) and the island became overly populated. Tourist boats didn't stop coming, and cruises didn't stop anchoring in all possible spots turning the bay into a marina. Our spot in the rocks also became extremely crowded to the point of being uncomfortable staying in the towel. By stretching my arm I was invading someone else's personal space.
Of course I knew there were a lot of people coming to the #1 attraction in Malta in the peak of Summer. We planned to go there on a weekday on purpose.
But still, I was not expecting THAT much people. I can't even imagine how it would be like on a weekend.  With only 4 ferries left on that day, we thought it would be a wise decision to come back to Malta earlier than expected and spend the rest of the afternoon in a beach in Mellieha.
Special tips for visiting Blue Lagoon in Comino island:
But don't let the crowds scare you. Blue Lagoon is a place not to be missed in a trip to Malta island. Swimming on the sea but feeling like you are on a giant pool is amazing! However, keep in mind some advice.
Don't expect comfort!
Get there early on a weekday
Take snorkeling equipment
Beware of the jellyfish! Depending on the wind and currents, there could be plenty of them. If you are stung, go the lifeguard immediately
Consider doing a day cruise. They can be expensive and from what I saw, they are also a bit crowded, but I am sure you can get more comfortable than sitting on a rock all day. They also can take you to caves and bays in Comino for a dive with no one around.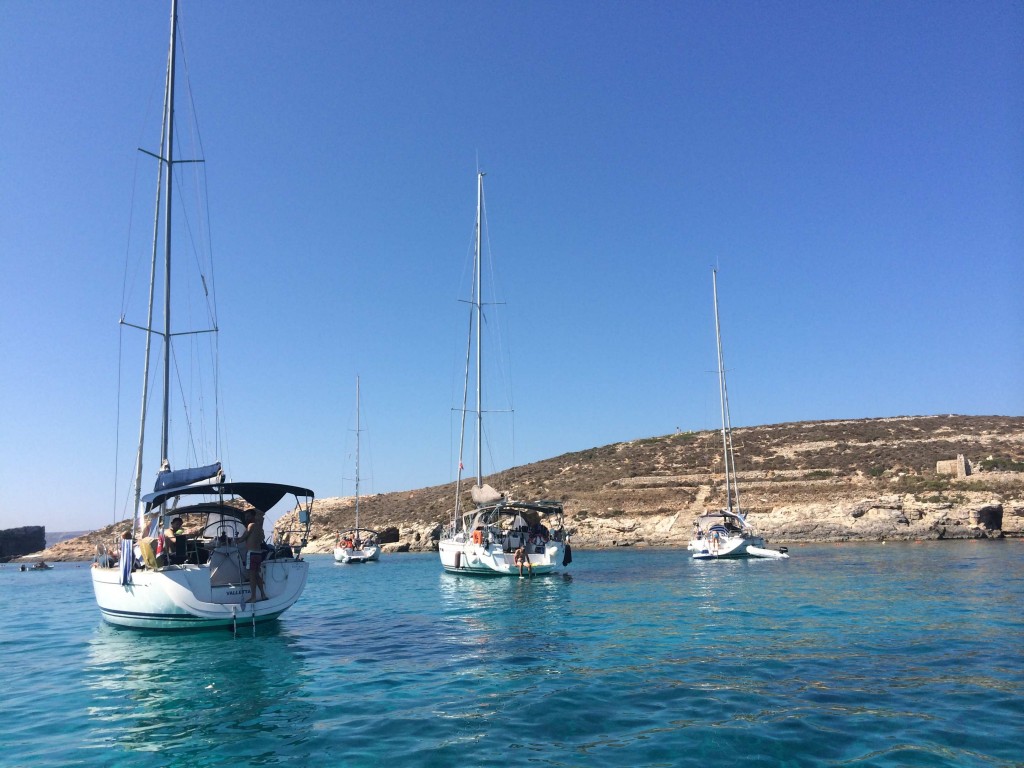 MALTA TRAVEL INFORMATION
How to get there
Even though there are ferry boats available, you'll want to get to Malta by air. Malta Luqa airport is well connected to several european countries, specially Italy, Spain and the U.K.
Use Skyscanner to compare the prices upfront and choose the cheapest fare possible!
Where to stay
Valletta or Mellieha are some interesting places to stay in the island. Avoid St Julians or Sliema unless you're in Malta just for the booze.
I've pre-selected the hotels with best reviews in Malta island for you. These have WiFi and good-to-excellent reviews. Plus, with Booking.com you are sure to get the best price and you can even cancel your reservation in case you've changed your mind.
How to get around
As for transportation, the decent network of buses is a great value-for-money option to get around in Malta. I feel that is safer than driving in the road madness of the island! Find out more about how to get around in my All About Malta Island article.
Do not miss
Mdina, the Silent City. The Blue Lagoon, despite the crowds and some jellyfish. And the views from the Grand Harbour from the Upper Barakka Gardens.
What to eat
Pastizzi. These palm-size layers of crispy pastry filled with either ricota cheese (the best ones) or pea (funny taste) are cheap street food and a very tasty snack! 
Have you been to the Blue Lagoon in Comino island?

How was your experience?