As remote and relatively small islands scattered across the North Atlantic ocean, unfortunately public transportation is not Azores' strongest point.
Inter-Island Connections in the Azores
Inter-Island Flights
Flying between islands significantly quicker but more costly. Sadly, SATA/Azores Airlines is the only airline doing inter-island flights and with no competition, the prices are far from being reasonable IMHO.
Check my page about flights in Azores to get to know more.
Inter-Island Ferries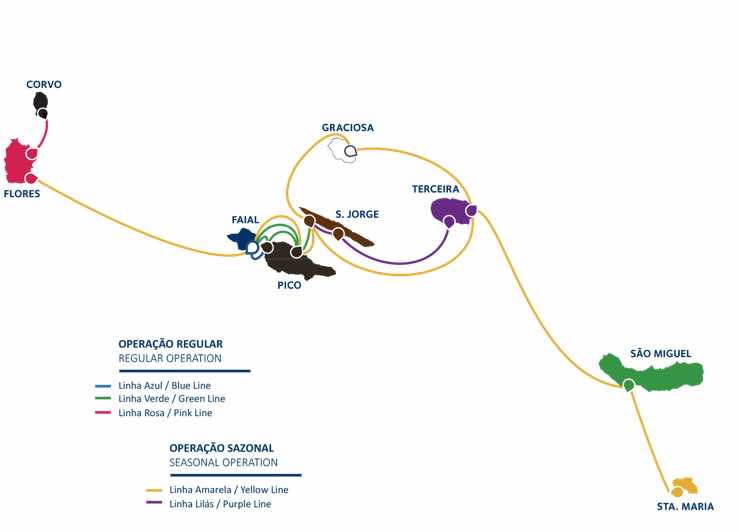 If you're considering the ferry route, the reference company is Atlântico Line. Take into account these journeys can be long though. The trip from São Miguel to Santa Maria alone (the two islands on the Eastern Group) takes at least 3 hours! See more details for the ferries in Azores in the section below.
My personal suggestion is to always fly between islands of different groups – Western, Central and Eastern – and to consider the ferry only for short trips in inter-grouping islands (e.g. Faial to Pico or Corvo to Flores).
In any case, I suggest you leave the exploration of island you're flying OUT back home for last. This will avoid any problems with journey cancellations which are pretty common due to due to rapidly changing weather and ocean conditions in North Atlantic.
Ferries in Azores
Although there are some sub companies operating inter island ferries in Azores, they all belong to the same parent company: Atlântico Line. It provides a full service (including vehicles) between all the 9 islands.
Check Atlântico Line's schedule page for detailed info, but this is what you can expect:
Eastern Group – São Miguel and Santa Maria

Only available during summer months. You can make your reservation directly with Atlântico Line. The trip takes roughly 3 hours.

Central Group – São Jorge, Pico and Faial

The service runs several times a day the entire year and given the proximity of the islands, it's very reliable. You can book with Atlântico Line or Transmaçor.

Western Group – Flores and Corvo

Atlantico Line runs the only ferry to Flores. There is a very small ferry that runs between Flores and Corvo it may hold 10-15 passengers.
Getting Around Each Island in the Azores
Getting around within each one of the islands can be tricky.
Taxis can be expensive. If you're going for this option, make sure you negotiate a price BEFORE. Private tour guides are even more costly.
There is also a network of buses between the main towns in the larger islands but they're not really reliable. You can try to get to know their schedules but the thing is that it doesn't get you anywhere close to the main sights anyway.
In face of this catastrophic scenario, I HIGHLY recommend getting your own wheels, preferably renting a car. However book early! The last two summers they were in a such a high demand there were days with no cars available to rent. I'd book the car rental at least 2 or 3 months in advance just in case.
More travel information about the Azores