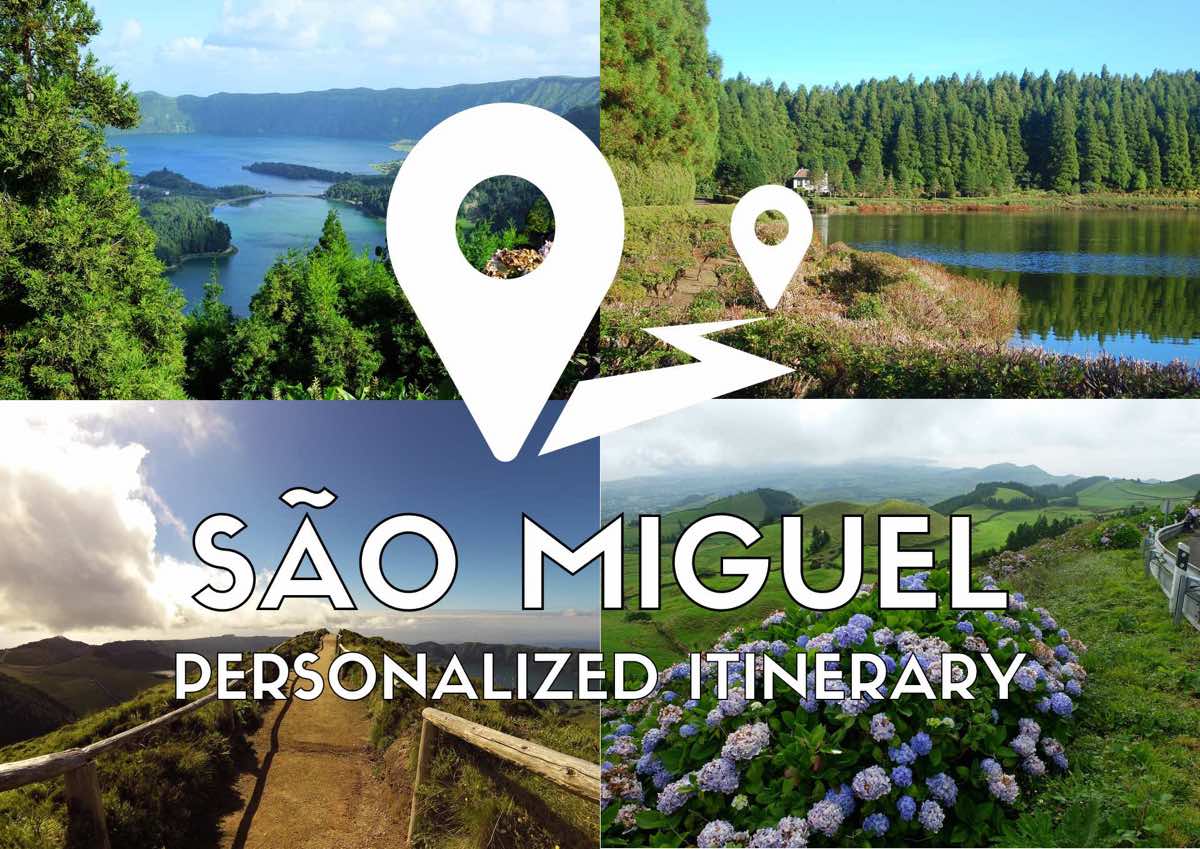 What if you could explore the most adventurous and special island in Europe like a local?
A personalized guide and itinerary for your trip is the only way to ensure your experience in the Azores is the best possible.
Remember: these are not generic guides created by a random traveler visiting the islands: this itinerary is for you only and it's packed with insider local tips from an Azorean.
Your targeted itinerary includes:
The top sights and places to visit in São Miguel island. These are tailored to YOU, based on what you share on the "Get to know me" form.
Packing list. What you can't
forget bringing to the island.
Directions on how to get to the most remote viewpoints and other points of interest. Including "secret" places that don't come in the touristic guides!
Suggestions for the best restaurants and bars in the island. Because food is essential for a full azorean experience!
Outdoor activities recommended for you. As well as the best tour agency to go with.
Other insider tips to get you fully ready to explore my home island! These advice will be targeted at your personal trip: who you'll be traveling with, what's your travel type and the time of the year you're traveling.
The itinerary does NOT include:
Hotel, flight or tour reservations. I will give you suggestions of places to stay and tours to make and include all the contact details. But all reservations will be made by you.
Other islands. For now, I'm only creating personalized itinerary and guides for São Miguel island.
These are the 2 steps needed from you:
Steps to get a personalised itinerary
1. Fill out the form below.
This is to get to know more about you, your travel persona and details about your upcoming trip to Azores (I call it the "Get to know me" form).
The more info you give me, the more data I have to boost your Azorean experience.
If you are having any problems try opening it in a new tab.
2. Make your payment
That's it. Your itinerary will arrive on your inbox soon!
Any questions please contact me through my email, Twitter or Facebook.
FAQ and logistics
How detailed is the itinerary?
I provide a full schedule for the day, estimates of how long to stay and detailed tips on each place. I also provide answers to any questions you ask in the form about tours, driving, etc.
To give you an idea of how big is the document, a 5-day itinerary has around 47 pages.
How will be the itinerary be sent to me?
Your personalised itinerary will be delivered by email, in a PDF format.
When can I expect my itinerary?
The timings for completing the itinerary depend on how long is your trip. I will do my best to deliver them ASAP, but as for now these are the maximum timings for receiving them after completing payment:
| | Expected delivery | Price (USD) |
| --- | --- | --- |
| 1-2 day itinerary | 3 business days | 99 |
| 3-day itinerary | 4 business days | 129 |
| 4-day itinerary | 5 business days | 149 |
| 5-day itinerary | 6 business days | 169 |
| 6-day itinerary | 7 business days | 189 |
| 7-day itinerary | 8 business days | 199 |
Do you start working on my itinerary when I complete the form or when I do the payment?
I only work on itineraries that have the 2 steps completed: the form AND the payment. Only when both are completed you will receive a confirmation email which means I will officially create your itinerary.
What if I want to make changes?
One revision is included in the price. If you let me know what exactly you are not comfortable with, I'll make sure I tweak it.
Can you do longer itineraries?
At the moment I'm only doing itineraries with a maximum of 7 days.
Can you include other islands?
At the moment I'm only doing São Miguel itineraries.
I have changed my mind and don't want the itinerary anymore. Can I get a refund?
If you change your mind in the first 24h after the initial payment, I can issue a refund. Please note I don't have a way to refund PayPal fees – these are not refundable.
24h after purchase, it's not possible to issue a refund as I most likely have already started working on your itinerary.